유통
Friend & Foe Games, Gamera Game
언어
영어, 이탈리아어, 스페인어 - 스페인, 프랑스어, 독일어, 일본어, 중국어 간체
SteamDB
1. 한국어화
유저 한국어화
2. 가격 (KRW)
4. DLC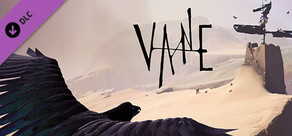 6. 게임 소개
6.1 동영상
6.2 소개
In a ruined desert, a strange golden dust transforms a free-spirited bird into a determined young child, setting off a chain of events that will reshape the world itself.
Set out on an exploratory quest, transforming between bird and child, using both perspectives to unravel the land's mysteries and create a path forward through the barren landscape. As you do so, the world reacts to your passage, evolving and building into something altogether different.

From the team at Friend & Foe Games, Vane is a stunning, emotional and unnerving experience. Developed with the conviction that players should find their own path through the world, the result is a minimalistic, stark environment that encourages exploration just to the edge of getting lost, set to an all-original brooding synth soundtrack.
7. 도전과제

히든 도전과제 완료방법 (english)
스팀 통계

Ruins of Ambition
Ruins of a large tower at the center of the world.

Junction
Remnants of machinery in the dark

Habitat
Traces of a civilization beneath the crust.

Convoy
Open the way for your friends.

The Tower
The Tower stands tall and massive against the Storm

Echoes
Echoes of a familiar place

Vane
A memory of where things started to turn

Max Speedbird
Starting at the far shallow end, fly through the desert canyon near the storm in record speed!

Professional Block
Be the first to leave the base of the Tower

Storm Chaser
Explore the depths of the storm circling the world

Premeditated Murder
Accumulate a legendary flock of crows by the vane tower

Summit Fan
Summit Fan

Transformation
The gold does more than glimmer in the desert...

Acceleration
Time lurches forward and the world begins to change...