개발
Team Bondi, Rockstar Leeds
언어
영어*, 프랑스어, 독일어, 이탈리아어, 러시아어, 스페인어 - 스페인
*음성이 지원되는 언어
SteamDB
4. DLC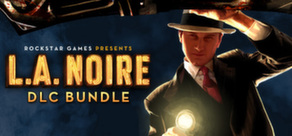 6. 게임 소개
6.1 소개
Using groundbreaking new animation technology, MotionScan, that captures every nuance of an actor's facial performance in astonishing detail, L.A. Noire is a violent crime thriller that blends breathtaking action with true detective work to deliver an unprecedented interactive experience. Search for clues, chase down suspects and interrogate witnesses as you struggle to find the truth in a city where everyone has something to hide.

Amid the post-war boom of Hollywood's Golden Age, Cole Phelps is an LAPD detective thrown headfirst into a city drowning in its own success. Corruption is rampant, the drug trade is exploding, and murder rates are at an all-time high. In his fight to climb the ranks and do what's right, Phelps must unravel the truth behind a string of arson attacks, racketeering conspiracies and brutal murders, battling the L.A. underworld and even members of his own department to uncover a secret that could shake the city to its rotten core.

L.A. Noire is the first videogame to be honored as an Official Selection by the Tribeca Film Festival.
7. 도전과제

히든 도전과제 완료방법 (english)
스팀 통계

A Cop On Every Corner
Complete a single street crime case.

Asphalt Jungle
Chase down and tackle a fleeing suspect on foot as an LAPD Detective.

Dead Men Are Heavier
Shoot and kill a total of 100 bad guys.

The Big Unfriendly
Complete 'Nicholson Electroplating'.
The Printer's Devil
Complete 'A Slip of the Tongue'.

Every Herb Bearing Seed
Complete 'Reefer Madness'.

Eight Million Stories
Complete 'The Naked City'.

Golden Boy
Clear a case finding every clue as an LAPD Detective or Investigator.

Hollywoodland
Find and inspect all gold film reels.

Johnny On The Spot
Respond to 20 street crime cases.

Keep A Lid On
Complete a brawl without losing your hat as an LAPD Detective or Investigator.

Lead Foot
Keep the needle above 80mph for more than ten seconds while driving.

Magpie
Find and inspect 95% of all clues.

Miles On The Clock
Drive more than 194.7 miles.

Not So Hasty
Stop a fleeing suspect with a warning shot as an LAPD Detective.

One For The File
Find and inspect a clue as an LAPD Detective or Investigator.

Public Menace
Rack up $47,000 in penalties during a single story case.

Roscoe And Friends
Kill at least one bad guy with every gun.

Shamus To The Stars
Complete all story cases with a five star rating.

Star Map
Discover all landmark locations around the city.

The Brass
Achieve maximum rank.

The City Of The Angels
Reach 100% Game Complete.
The Hunch
Use four intuition points in a single interview session, correctly branching each question.

The Long Arm Of The Law
Complete all street crime cases.

The Moose
Follow Candy Edwards without using cover or incognito, except when starting or picking up the tail.

The Plot Thickens
Find and solve an inspection puzzle.

The Shadow
Tail a suspect without being spotted, in a single case.

The Straight Dope
Use evidence to prove a lie as an LAPD Detective or Investigator.

The Third Degree
Correctly branch every question in every interview in a single story case.

The Up And Up
Complete a story case with a five star rating.

Traffic Stop
Disable a suspect vehicle with help from your partner.

Auto Enthusiast
Drive 5 different vehicles.

Auto Collector
Drive 40 different vehicles.

Auto Fanatic
Drive every vehicle in the city.

Wooden Overcoats
Bring down a total of 30 bad guys with head shots.