1. 한국어화
유저 한국어화
2. 가격 (KRW)
6. 게임 소개
6.1 동영상
6.2 소개
DEVELOPERS' WORDS
Ni hao! We're Stove Studio, a two-man team from Shanghai, China. We both love strategy games, that's why we created Warriors of the Nile. We sincerely hope that you enjoy the game. Join the Discord server if you have any thoughts you want to share with us.
The English trailer and gifs are in production.



게임 정보

Unlike most traditional strategy games, Warriors of the Nile provides a faster-paced combat experience. On top of that the roguelite mechanics allow players be able to try different builds each time.
Ancient Egyptian theme and characters

Fast-paced strategy

Three unique units

Use various tablets to build your elite team

Random levels and powerful bosses

Rewarding and changeful gameplay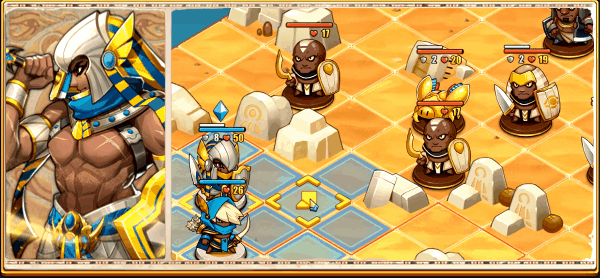 ◆Sun Warrior◆
The fortress stands at the forefront, he protects his teammates with a big shield. If necessary, he can also become a killing machine.
◆Dune Hunter◆
Use his arrows to give enemies deadly hits from the safest place.
◆Mystic Mage◆
Did you see? Her explosive magic can destroy everything.

Tablet
- After each victory, you can choose from one of the three random tablets to enhance units. Try different combinations to build your own elite squad.
Equipment
- Weapons and accessories can also make your units more powerful. Equipments can be obtained in battle or purchased in the market.
Citadel building
- Expand your citadel. Each building will bring a permanent bonus, providing advantages for your next adventure.