출시일
Q2 2021, wishlist to get notified
개발
Coldwild Games, illufinch
언어
영어, 프랑스어, 이탈리아어, 독일어, 스페인어 - 스페인, 일본어, 포르투갈어 - 브라질, 러시아어, 중국어 번체, 중국어 간체
SteamDB
6. 게임 소개
6.1 동영상
6.2 소개
Cassie wakes up on an island that belongs to Luna, a mysterious fox spirit. A few moments later, she is tasked with creating the biggest garden ever!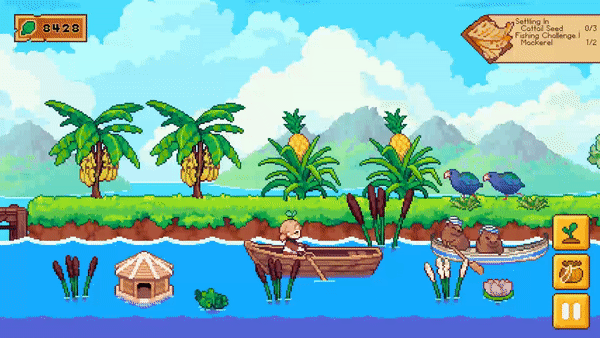 Luna's Fishing Garden is a cozy fishing and building game. Catch fish, trade with the fox spirit, and create the garden of your dreams by planting new trees, placing water objects, and bringing animals to the archipelago.
Play it the way you want to
Progress at your own pace and enjoy catching fish, planting and watering trees, and settling animals on the islands. After you have completed the main plotline, you are welcome to stay and build your garden any way you want to. You can't lose in this one.
A wholesome experience
With beautiful pixel art and relaxing soundtrack, Luna's Fishing Garden is designed to take your worries away and immerse you in the colorful water world. Meet island spirits and complete their tasks, or simply relax and observe the world around you.
Main Features
Hone your fishing skills: catch more than 20 different types of fish, each with its own behavior and extra challenge to catch.

Create your own garden: plant beautiful trees on the islands, place floating objects on the water, and bring in new birds and animals!

Enjoy your stay: roam around in your boat, watch the seagulls fly, sit back and relax. This peaceful world welcomes everyone!