6. 게임 소개
6.1 동영상
6.2 소개
■ About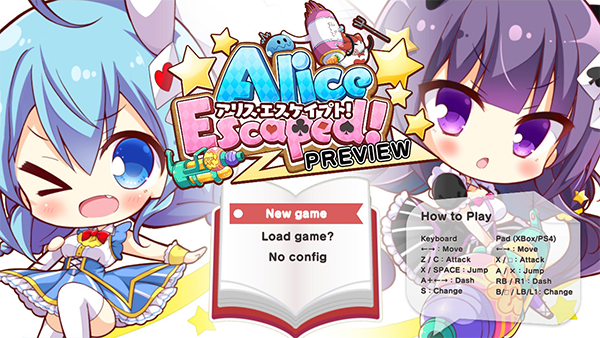 Alice Escaped is a 2D action and exploration game. Follow the advenctures of the two girls Usada and Kotora who wander into a strange world of grimoires, chasing after "Alice".
What awaits them there are mysterious characters based off of Alice in Wonderland: the Cheshire Cat, the Mad Hatter, and Humpty Dumpty -- but are they really the enemy? And why does the White Rabbit guiding them have a zipper on his back?
Finally, who is the enigmatic girl hiding Alice in the deepest part of the world? Just why do they find themselves trapped inside, and-- Oh, you'll need to find out the rest for yourself!
■ Battle Action
The key to this game is the stylish tag team battle system! Swing Usada's giant hammer to pulverize your enemies with powerful melee attacks, or use Kotora's submachine gun and bombs to take enemies out from a distance. Switch between the two to chain impressive combos!
Taking out enemies builts up your Chance Gauge, which can be used to perform supporting attacks and devastating ultimate attacks. (feature not included in the demo)
The intensity builds in boss fights: whittle down their shield gauge to break their shields, letting you unleash a flurry of attacks. But beware -- they've got a variety of powerful attacks to hit you back!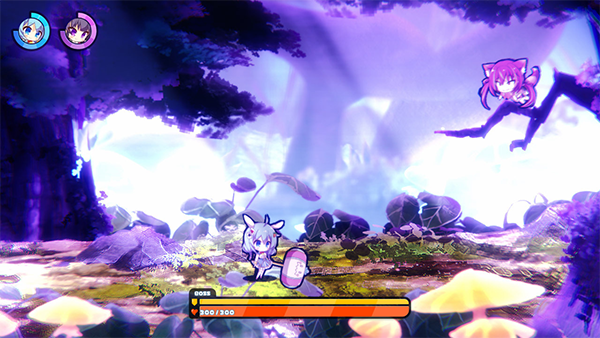 ■ Characters
Usada & Kotora
Two friendly girls who have wandered into a mysterious world
White Rabbit
A strange rabbit with a zipper on his back who calls himself "Usamura-san"
Cheshire Cat
This cryptic feline appears before Usada and Kotora and enjoys testing his skills against them. Maybe he has another goal than just getting in their way...?
■ Story
One summer's day, Usada and Kotora go to the library to do their homework. Kotora seriously gets to her studies, but Usagi has her head up in the clouds. She wanders over to a bookshed deep inside, and brings back a big, thick book.
"I found this interesting looking book!"
Kotora looks back at her quizzically. Suddenly, a slip of paper falls out from the book. The letter reads:
"Look for Alice."
As soon as they read the words, the two are enveloped in a blinding light.
Features