6. 게임 소개
6.1 동영상
6.2 소개
Join three heroes in training as they learn to master their individual strengths and harness the power of Alterium Essence. With their training nearly completed, Dolion, their teacher, prepares them for the most important mission they've faced yet.
About Alterium Shift:
Alterium Shift is a SNES JRPG inspired indie game developed by two friends (Mottzy and Drass_Ray) who want to share their love for games like Chrono Trigger and FFVI through their own games.
Story:
In this game you will experience a story rich, living world, where choices and interactions matter! You'll journey with three heroes in training; Pyra, Atlas, and Sage. Their teacher, the war hero Dolion, strives to mold his students into heroes, ones better than himself. You start the game with the three heroes taking their final test before being sent off on an important and life changing mission. What fate awaits these heroes and can they accomplish the tasks set forth before them?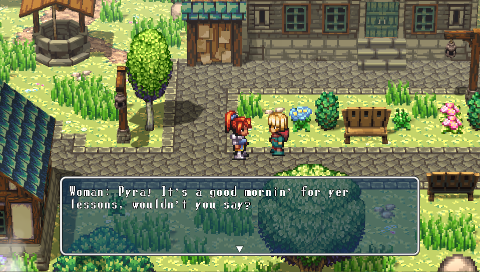 Combat:
Alterium Shift has a full featured turn-based combat system with a turn-order display for important decision making! Exploit enemy weaknesses and gain experience to grow your party into an unstoppable force! Of course, the loot you earn will also help you a long your journey as well.
Exploration
Explore the world of Alteria. Meet new and diverse people. Find loot and hidden treasure! Take on new quests. The decision is yours and every decision is important!