언어
영어, 독일어, 프랑스어, 이탈리아어, 스페인어 - 스페인, 러시아어, 중국어 간체
SteamDB
5. 트레이딩 카드

6. 게임 소개
6.1 동영상
6.2 소개
Expedition: Oshur
Welcome to the Isles of Oshur
A new, massive-scale continent makes its way to PlanetSide 2 for the first time since 2014. The tropical isles of Oshur are reminiscent of a time before the Auraxian war, where research and exploration were the most valued pursuits, and the factions weren't fully divided.
Something for Everyone
Oshur was designed with an emphasis on logistics and diversity of gameplay. The towering Trident Relays necessitate air support and quick responses, the lattice has deliberate and strategic cutoffs for squad and platoon leaders to pursue, the beachheads and mid-field bases carve a meaningful role for construction; the open savannahs, sandy beaches, and tropical jungles foster vehicle battles and heavy armor usage; and the hand-crafted designer-driven bases create unique and learnable gameplay spaces for hardened infantry veterans. With this new island battleground, there is something to enjoy no matter your style of gameplay.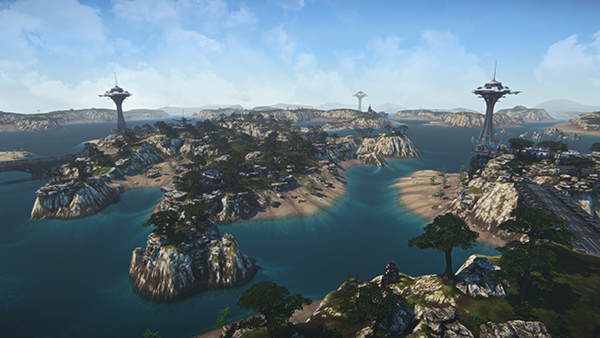 Exodus Flotilla
The expedition to Oshur took place aboard the new Exodus-class Fleet Carriers. Unlike traditional maps, there are no Warpgates on Oshur, and this flotilla of heavily armed fleet carriers will become your new base of operations. Enemy vehicles that stray too close will be shot out of the sky by the shipboard Particle Projection Cannon.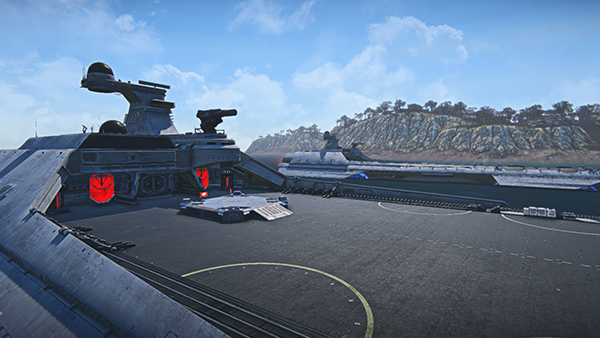 Water Mechanics
As a part of a massive undertaking, we've completely changed how water works in PlanetSide 2. Every vehicle, infantry, and projectile interaction has been re-engineered to accommodate these new mechanics.
Wheeled Vehicles putter along the surface.

Hover vehicles float above the water.

Air vehicles cruise beneath the waves like submarines.

Infantry and treaded vehicles prowl the ocean floor.

Projectiles that enter the water are hit with heavy drag.
Indar, Amerish, Hossin, and Esamir will all be retrofitted with these new water mechanics at a later date (so don't dip your toes into that frozen river just yet.)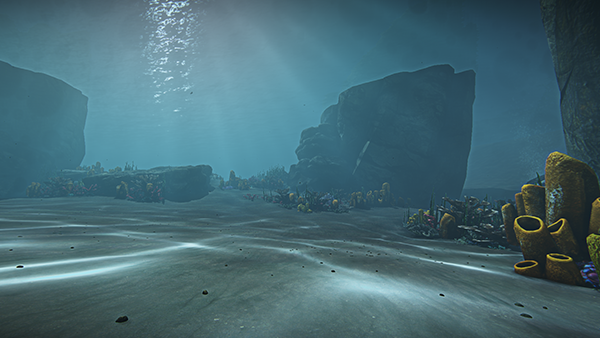 Underwater Weapons
Most traditional weapons won't fire while submerged, but special equipment has been added to ease the transition.
Three new underwater rifles and one underwater pistol are now available to access by various means.
UBR-100 Frogman - Unlocked by completing the first tier of the Conquest Oshur directive.

UBR-150 Sea Lion - Unlocked with Certs or DBC.

UBR-300 Swordfish - Unlocked by completing Chapter 02 of the Distant Shores campaign.

UBP-1 Starfish - Unlocked by completing the Distant Shores campaign.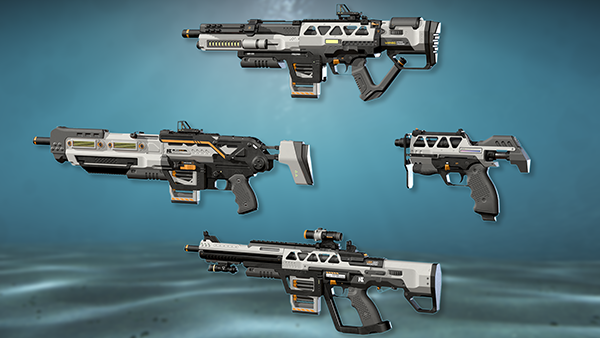 New Facilities
Interlink Outpost
Constructed as early communication hubs for research on the islands and out at sea, the Interlinks are single-point infantry-capture bases with a close-quarters arena and multiple entrances for attackers.
Controlling an Interlink Outpost counts toward Empire Strength on the continent.
Trident Relay
These massive spires jutting from the water's surface are only enterable from their airpads located high above. Three symmetrical entrance-ways provide an airport-style atmosphere to fight through.
Controlling a Trident Relay counts toward Empire Strength on the continent, and allows for lattice cutoffs deep into enemy territory.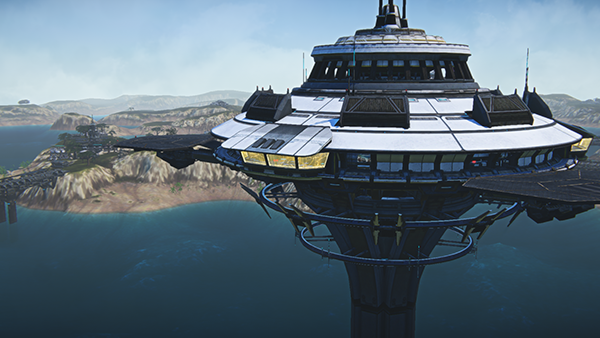 Distant Shores, Chapter 02
Nascent Expeditions has finally cleared the path toward Oshur, and the Empires are maneuvering to gain a foothold. The last chapter of the Distant Shores campaign will be made available Jan. 27.
New Directives
Oshur Collections - A new "Collections" tab can be found in the Directives page. Our first Collections directive asks you to recover the lost dog tags of those who died during the evacuation of Oshur.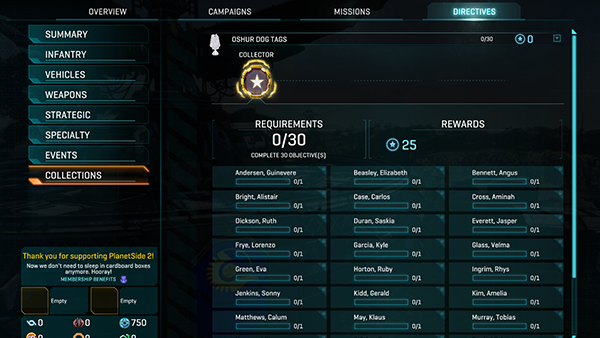 Conquest - Oshur
- In the "Strategic" tab, a new directive line dedicated to the war for Oshur has been added. Unlock the new UBR-100 Frogman by completing the first tier, and the (very special) Paradise Camo at Master tier, reserved for only the most hardened veterans.
Oshur Auto-Unlock Dates
To celebrate the launch of Oshur, we'll have certain windows where Oshur will auto-unlock itself. Outside of these days, the continent will remain in the normal rotation. We can enable or disable this functionality without downtime based on demand. The goal here is to allow everyone to experience the continent immediately while its new, while avoiding the burnout of the same map 24/7.
The current auto-unlock schedule is:
Wednesday, Jan. 26 through Sunday, Jan. 30
-Wrel, Lead Designer
-------
For a full list of changes and fixes, head on over to our forums and read the
Official Patch Notes
.
게임 정보
PlanetSide 2
is a free-to-play, massively multiplayer online first person shooter (MMOFPS).
Empires and their soldiers battle in an all-out planetary war on a scale never before seen, in stunning, breathtaking detail. PlanetSide 2 battles persist and the war never ends, offering constant challenges of individual skill, team grit, and empire-wide coordination. Take up arms and drop into intense infantry, vehicle, and air combat.
Players come together in enormous battles across four massive continents to win control of critical territories, gaining key resources for their empire. With an extensive skill tree and class-based system, players can customize their soldier, weapons, and vehicles to match their playstyle and meet the needs of their squads, outfits, and empires. In the world of PlanetSide 2, every soldier makes a difference.
THREE WARRING EMPIRES
Players will choose to align with one of three empires: the militaristic, authoritarian Terran Republic; the rebellious, freedom-fighting New Conglomerate; or the technocratic, alien-influenced Vanu Sovereignty. Each empire has access to empire-specific weapons, attachments, vehicles, abilities, and more.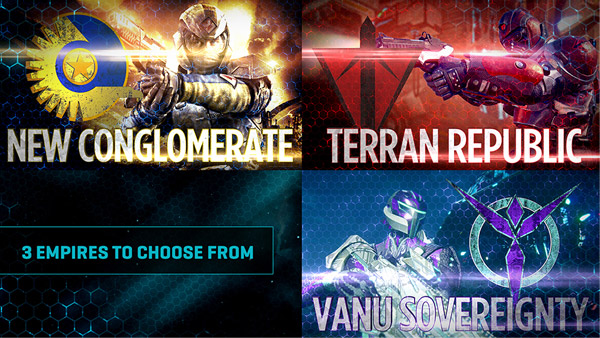 MASSIVE WARFARE
Battles take place not between dozens of soldiers, but between hundreds. They fight on foot. They pile into vehicles. They take to the skies in devastating aircraft. Each battleground holds valuable resources and strategic positions, and the empire that can conquer and hold these territories will be rewarded with the resources and the means to achieve victory.
ENORMOUS MAPS
PlanetSide 2 features four incredible and diverse continent maps with dozens of square kilometers of seamless gameplay space, every inch of which is hand-crafted and contestable. Whether in open fields, barren desert, in armed and armored bases, or in the skies, victory will rely on knowing your surroundings.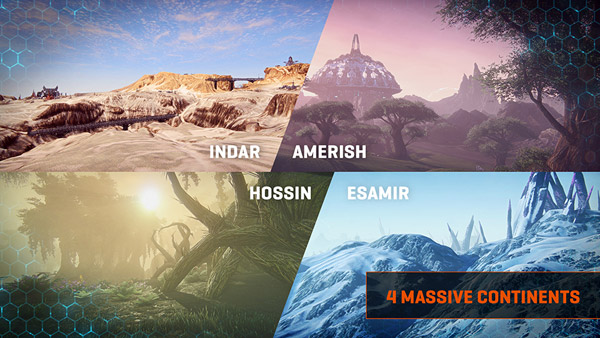 PERSISTENCE THAT PAYS
In PlanetSide 2 the war isn't won by a single base capture. The core gameplay of PlanetSide 2 is about holding crucial territories and controlling resources. Working strategically as a team to secure tactical positions has long-lasting effects that can shift the tide of battle.
CLASS-BASED COMBAT
Players can build their soldier to match wants and their allies' needs. Six distinct classes provide a wealth of squad options and combat tactics. Grow your soldier over time as you master each combat role, weapon, and vehicle, laterally unlocking hundreds of weapons, attachments, gear, skills, vehicles, and more.
Heavy Assault:
Rush into the battle guns blazing. You are the dedicated foot soldier of Auraxis.
Light Assault:
Go where the Heavies can't with your short-burst jetpack. Pick a high spot, throw a grenade, and out maneuver your foes!
Combat Medic:
Keep your fellow soldiers alive and in fighting shape. You are the beating heart of any squad.
Infiltrator:
Stay silent. Stay invisible. You are death from the shadows, whether with a knife from behind or a single shot from a sniper's nest. You are the enemy's constant fear.
Engineer:
Deploy crucial equipment. Resupply your allies. Fix the thing, then fix it again. You keep the machines running, the tanks firing, and the war effort moving forward.
MAX:
Step into your Mechanized Assault Exo-Suit (MAX). Cannons for hands, armor for flesh, and a disposition to match, you are a walking mass of nigh unstoppable death.
OUTFIT TEAMWORK
Join or form your own Outfit, a like-minded group of soldiers who train together day in and day out. Whether a small rapid response team or a massive clan, Outfits are vital to each empire's strategic organization.
VEHICLES & WEAPONS
Train and equip your solider how you want, with a huge array of weapons and vehicles which can be extensively customized by preference or purpose, using attachments, upgrades, and add-ons earned in the war.
PLAY FOR FREE