언어
영어, 독일어, 이탈리아어, 스페인어 - 스페인, 포르투갈어, 포르투갈어 - 브라질, 프랑스어
SteamDB
4. DLC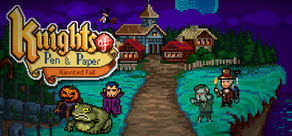 5. 트레이딩 카드

6. 게임 소개
6.1 동영상
6.2 소개
Set out on a grand adventure in this turn-based, retro style, pixel-art RPG, inspired by the great titles of the 90's. Take on the roles of in-game players taking on the roles of their characters in a traditional pen and paper RPG session in the ultimate meta roleplaying experience.
As both the playing characters AND the game master, players can choose which battles to fight. Put together a bunch of monsters to make for a challenging fight and your efforts will be equally rewarded!
Choose from multiple classes, such as knights and mages, pick your characters to control those classes, like grandma or kid brother, and take on the loads of quests, monsters, items and equipment littered throughout Knights of Pen & Paper +1 Edition. Blacksmiths, enchanters, mining, gathering, hidden treasures and a whole lot more await, giving players a lot of room to personalize their gameplay experience.
Don't wait any longer, the Pen & Paper world needs you!
Key Features
The ultimate pen and paper RPG simulation experience

Put together your own role-playing group complete with the game master, the role-players and their respective classes

Fight and explore your way through a perilous fantasy world to defeat the dark mage

Level up and get your hands on more gold to unlock epic items and gear for your party

As the game master, you can set up the fights yourself and choose how many monsters to battle
The +1 Edition includes these all new features:
New dungeons to explore with monsters, traps, treasures, and powerful bosses

The Tavern, a place to stash heroes and switch out party members

More options for characters to implement during battles, adding more depth and variation to fights

Extended campaign filled with lots of new content
7. 도전과제

히든 도전과제 완료방법 (english)
스팀 통계

Group of Masters
Unlock all masters.

Indecisive Person
Play with all characters in game.

The Open Minded
Play with all classes in game.

Goodies Expert
Buy all goodies in game.

The Explorer
Visit every single place in game.

Epic Armor
Buy the highest armor upgrade available.

Class: Barbarian
Unlock the Barbarian class.

Class: Bard
Unlock the Bard class.

Blacksmith Level Up!
Make the blacksmith dance.

Where the Journey Begins
Finished the campaign.

Unlucky
Roll 1 in any random roll.

Lucky
Roll 20 in any random roll.

Dragon Slayer
Kill a dragon.

Dungeon Cleared
Clear a dungeon.

Master of Dungeons
Clear 10 dungeons.

Dungeon Crawler Kind of Person
Clear 50 dungeons.

Elite Kill
Kill an elite minion.

Ain't Nobody Got Time For That
Finish the storyline as fast as you can (less than 365 days but you may extend that to 465).

Say Hi to the Game Devs!
Unlock the Game Developers that made the game.

Thanks For Choosing Us <3
Complete a campaign using all 5 Game Developers as characters.

Rise From Your Grave
Continue the game after a game over.

What Is Your Gold Level?
Earn 9.001 golds.

The Big Spender
Spend 9.001 golds.

Class: Hunter
Unlock the Hunter class.

Is This My Kitchen?
Visit your Kitchen inside the game.

Class: Knight
Unlock the Knight class.

Level 15
Reach Level 15 in any character.

Level 30
Reach Level 30 in any character.

Level 30 Elite Group
Reach Level 30 in every character of your group.

Level 30 (x3)
Reach Level 30 in a trio.

Level 5
Reach Level 5 in any character.

Here Comes a New Challenger!
Unlock a new master.

Hit That Vein
Gather a grindstone by mining veins.

Grindstone Master
Gather 10 grindstones from veins.

Tough Battle!
Win a battle with 7 monsters.

Class: Necromancer
Unlock the Necromancer class.

What a Waste!
Use a potion while full health.

Class: Shaman
Unlock the Shaman class.
Wow, You Must Love That Spell!
Reach Level 15 in a specific Spell.

Epic Weapon
Buy the highest weapon upgrade available.

Weird Combination
Choose a weird combination of character and class.