4. DLC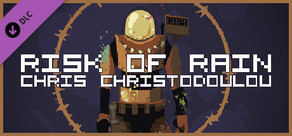 5. 트레이딩 카드

6. 게임 소개
6.1 동영상
6.2 소개
Risk of Rain 2 Steam Page
Risk of Rain 2 Steam Store Page Now Live!

Risk of Rain 2 is a 3D action multiplayer rogue-lite that brings you back to the mysterious crash site of the Contact Light. No run will ever be the same with randomized stages, monsters, bosses, items, and more. Play solo or team up with friends online to fight your way through hordes of monsters and find a way to escape the planet..
https://store.steampowered.com/app/632360/Risk_of_Rain_2/
게임 정보
Risk of Rain is an
action platformer
with
roguelike elements
. With
permanent death
as a primary feature, players will have to play their best to get as far as possible. Fight on a mysterious planet with
randomly spawning enemies and bosses
, either alone or with 3 friends in
online co-op
. With over
100 items
at your disposal, you will find the tools you need to find the teleporter back home. Discover a myriad of
randomly chosen stages
, from the desolate forest to the frozen tundra.
The three main goals for our game are simple:
1. Design a game that is randomly generated every play-through, to keep replayability high and fresh.
2. Time = difficulty. The higher the in-game time gets, the harder the difficulty gets. Keeping a sense of urgency keeps the game exciting!
3. Be enjoyable, regardless of whether you win or lose. No more fussing with complex and non-intuitive gameplay patterns. Players should not blame the game for their loss!
''..joy comes from amassing items, gaining experience and watching your character evolve into a godly killing machine.''
-
Joystiq
''This game is immaculate. The enemy design, the sound effects, the powers, the fights, all of it feels wonderful.''
-
Eurogamer
"..a ridiculously compelling procedurally generated side-scrolling platform survivor-me-do, with multiple characters to play as, single and co-op play, and some of the hardest-hitting deaths I've experienced in such games"
-
RockPaperShotgun
Key Features
Engage in local and online multiplayer with friends and other players from around the world!

Play and unlock 12 unique characters, from the Commando to the Miner to the Engineer.

Fight through hordes of different enemies and bosses, randomly chosen by the game with random abilities and powers.
Get lost and discover 10 massive levels with different enemies, shrines, and chests on each one!
Recruit the help of a wide variety of drones, from missile drones to healing drones!

Unlock the lore of the game through the item and monster logs!

Unlock new items and characters through difficult achievements to keep the game fresh with each playthrough.

Save your best highscores and stats!
7. 도전과제

히든 도전과제 완료방법 (english)
스팀 통계

Finders Keepers
Find the bloated survivor.

Sole Survivor
Die 50 times.

Better Luck Next Time
Fail a shrine 3 times in a row.

Diamond Casket
Bank 20,000 gold.

Don't Mind If I Do
Unlock a golden chest with the Explorer's Key.

Sleepin' With The...
Drown 20 Whorls.

Master Hunter
Kill the Magma Worm, Wandering Vagrant, and Giant Stone Golem.

Lizard Bait
Defeat 20 lemurians in one playthrough.

Night Night
Kill a boss with 'Lights Out'.

Seasoned Wanderer
Collect 15 Monster Logs.

Macho
Deal 5000 damage in one shot.

Endless Voyager
Collect 4 Keycards.

Lucky Devil
Pass a shrine 4 times in a row.

You Won't Regret It
Find the robot janitor.

The Lone Survivor
Survive 40 minutes.