개발
GameCrafterTeam, GameTomo Co., Ltd.
SteamDB
4. DLC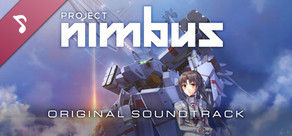 5. 트레이딩 카드

6. 게임 소개
6.1 동영상
6.2 소개

Project Nimbus is a high-speed mech action game set on a devastated future Earth, where the player maneuvers a weaponized humanoid general-purpose Battle Frame.
Engage enemy units with various weapons and defeat huge bosses and unique ace pilots!
Fly the skies with 360 degrees of freedom, and battle enemies with a variety of weapons and techniques, from smart missiles to the blade charge.
Experience the battle as a young ace pilot destined for legendary status.

▷ High-speed battle action, piloting heavily armored Battle Frames through the war torn skies.
▷ Twenty-six missions in a variety of locations, including floating cities, ocean fortresses, mountain bases, futuristic prisons, and battles in space.
▷ Over a dozen playable Battle Frames with weapons including smart missiles, energy blades, particle cannons, floating energy shields, railguns and autonomous psychodrones.
▷ A sprawling storyline with battles between three different factions over a war-torn futuristic planet: the US-lead CFN, the Russia-led UCN, and the shadowy terrorist Children of Fallen Nations.
▷ Complex bosses each with a unique fighting style, including orbiting nuclear battle mechs, bands of deadly pilots, and weaponized flying ships.
▷ Missiles, rail guns and cannons for long range combat...energy blades and blade rushes for melee!

▷ Bonus Survival Mode lets you choose from an entire hangar of Battle Frames, and then you must battle endless waves of enemies with increasing power.
▷ WARFRONT mode includes massive replayability with six unlimited mission modes including Base Defense, Interception, and Assassination. Six levels of pilot (including Legendary) and Battle Frame customization will keep you playing for hours more.

▷ 21:9 / 32:9 Ultra-wide, 4K and high-end resolution support
▷ 60, 90, 144 and uncapped frame rate support
▷ Detailed visual settings. Bloom, reflection, shadow, vignette, and chromatic aberration you can increase or decrease intensity as you like
7. 도전과제

히든 도전과제 완료방법 (english)
스팀 통계

I Closed My Eyes
Used the Blade to deflect a missile.

Lay It On Me
Completed a mission using only the Blade.

4th Generation Pilot
Completed all Act 1 missions.

Prepared For Nothing
Completed all Act 1 Missions on Prepare to Die.

At What Cost, Peace...
Completed all Act 2 missions.

I Am Invincible
Completed all Act 2 Missions on Prepare to Die.

Pilot's License
Completed the Tutorial mission.

Combat Rated
Defeated 100 enemy units.

Ace Pilot
Defeated 1000 enemy units.

Steel Pigeons
Defeated all parachuters before they reached the ground during "Bridge to Space."

Welcome to the Circus
Fired 1000 missiles.

Not A Clunker
Used the M1 Guardian and survived 5 waves in Survival Mode.

Archivist
Listened to all Audio Logs.

Above and Beyond
Completed all other achievements.

Fully Rated
Piloted every Battle Frame available.

I Held A Party
Stayed alive in Survival Mode for 15 Waves.

Stayin' Alive
Stayed alive in Survival Mode for 7 Waves.

Safety's Still On
Completed a mission without firing any missiles (when flying a missile-equipped Battle Frame).