4. DLC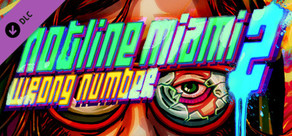 6. 게임 소개
6.1 동영상
6.2 소개
Hotline Miami 2: Wrong Number | Digital Comics



Download the Hotline Miami 2: Wrong Number digital comic series by Dayjob Studio and dive into the backstory of several factions on a path to confrontation. The entire five-part series is free to download and comes in a single app that launches from your Steam library.

http://store.steampowered.com/app/341190
게임 정보
Hotline Miami 2: Wrong Number is the brutal conclusion to the Hotline Miami saga, set against a backdrop of escalating violence and retribution over spilled blood in the original game. Follow the paths of several distinct factions – each with their own questionable methods and uncertain motivations – as unforeseen consequences intersect and reality once again slips back into a brilliant haze of neon and bloodshed.
Blistering combat against punishing opposition will require intense focus as new variables, weapons, and methods of execution are introduced throughout the struggle. Let the striking colors of an unmistakable visual style wash over as you meticulously cut down those that would stand between you and the ultimate meaning behind the massacre. This is the finale, this is the unquestionable end.
Relentless Hostilities:
Adjust combat techniques as the narrative shifts between factions and brings unique variations to a familiar approach along with new weapons, movements, and melee attacks.
Enthralling Soundtrack:
Over forty pounding tracks from dozens of artists punctuate the savage conflict and bring the larger scale of your actions into focus. New artists join returning favorites like M|O|O|N, Perturbator, Jasper Byrne, Scattle, and El Huervo for an incredible audio massacre.
Custom Level Editor:
Design custom levels using characters, enemies, weapons and music tracks from the game and share your creations with others online via Steam Workshop.
[COMING SOON]
Hotline Miami 2: Wrong Number Digital Special Edition
The Hotline Miami 2: Wrong Number Digital Special Edition includes the Hotline Miami 2 Wrong Number Remix EP featuring six remixed tracks from M|O|O|N, Scattle, and Carpenter Brut.
***Please note that the Hotline Miami 2: Wrong Number Digital Special Edition does not include the full soundtrack. The full soundtrack is a separate purchase and includes all 49 tracks with the proceeds going to the artists themselves.***

Hotline Miami 2: Wrong Number Payday 2 Packs
The Hotline Miami 2: Wrong Number Digital Special Edition also includes free access to the Payday 2 "Jacket Character Pack" that includes the character items and weapons below.

All owners of Hotline Miami 2: Wrong Number on Steam - standard or Special Edition - will receive an exclusive mask pack in Payday 2.

7. 도전과제

히든 도전과제 완료방법 (english)
스팀 통계

1-800-CLEARED
Finish the game

1-800-GETHELP
Finish the game on hard mode

1-800-GODDAMN
Get A+ on all levels on normal

ACHIEVEMENT WHORE
Unlock all achievements

ASSASSIN'S CRED
Clear the 1st floor of NO MERCY with the silencer

COMBO BEGINNER
Perform a 5x combo

COMBO GOD
Perform a 20x combo

COMBO INTERMEDIATE
Perform a 10x combo

COMBO MASTER
Perform a 15x combo

DEAD SILENT
Finish SUBWAY without the Gang Leader seeing you

DON'T LET ANGER GET THE BEST OF YOU
Clear all of the Writer's levels without killing

EXTRA! EXTRA! READ ALL ABOUT IT!
Get the big picture

FAMILY BUSINESS
Clear a level with each of the Son's techniques

FANATIC
Clear a level with each Fan

FANTASTIC!
Unlock all the Fans

FOLLOW THE SCRIPT
Do as the Director says!

GENOCIDE
Kill 50,000 enemies

GOT YOUR BACK
Shoot two enemies during a chainsaw finish

I'M COMING IN AND I'M UNARMED!
Finish HOMICIDE without using guns

KARMA
Die 1000 times

PERCUSSIVE MAINTENANCE
Destroy 100 electronic devices

THESE ARE MY RIFLES, THESE ARE MY GUNS...
Unlock all weapons for the Soldier

SNAKE CHARMER
Unlock all snake masks

SNAKES ON A HEAD
Clear a level with each snake mask

A BOX FULL OF SHARP OBJECTS
Use every weapon in the game at least once

WHAT YOU LEAVE FOR YOUR SONS
Unlock all of the Son's techniques