언어
영어*, 프랑스어*, 독일어*, 포르투갈어 - 브라질*, 러시아어*, 이탈리아어*, 폴란드어, 체코어, 헝가리어, 한국어, 중국어 간체*, 중국어 번체
*음성이 지원되는 언어
SteamDB
5. 트레이딩 카드

6. 게임 소개
6.1 동영상
6.2 소개
Life is Feudal: MMO goes full F2P!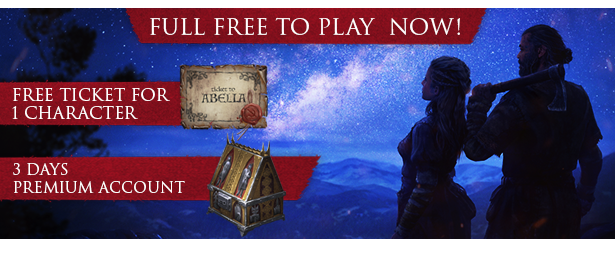 Life is Feudal: MMO is full F2P now!
We're excited to announce that, starting today, every player can get the
full access to the game for one character
and explore giant, hardcore and realistic world of Abella
absolutely for free!
That's not all!
Every newcomer will receive a special gift
, 3 days of Premium account, that will help to boost Feudal experience and make the first steps in Feudal world a little bit easier and enjoyable!
Start your big Feudal adventure now!
A great opportunity to gather your friends and explore giant map and start building a kingdom that will be famous for centuries to come! And don't forget to user Counselors Feature to get a special reward for teaching your friends!
게임 정보
Life is Feudal: Your Own
is a truly hardcore sandbox RPG with captivating survival aspects. Described as a real life Medieval simulator, which caters for up to 64 players on a 3km x 3km gameworld, any and all paths are an option.
Current version of LiF:YO DOES NOT include the free Life is Feudal:MMO ticket in it now. Please, purchase it separately here: http://store.steampowered.com/app/700030/Life_is_Feudal_MMO/
LiF:YO places you in a realistic feudal setting with the ability to host your own private world and set your own rules to suit your playstyle. There's an in depth crafting system, a range of building features, and free terraforming across the map - meaning you can build your own house anywhere in the world. Team up with your friends and build a village or city and repel attacks by other players who want to ransack your lands!
The unique combat system is non-target and physics-based; the direction of your attack depends on mouse movement. Basic movements and directional attacks can be combined to create deadly combos with special harmful effects. Battle formations are also a new way to collaborate and control the situation on the battlefield with your fighting team. Co-operation and a good strategy within a formation will help you prevail against the enemy.
Everything is tweakable and unique to you, including how your character progresses. The skill and stat cap system allows you to design a character molded to fit your style perfectly, for example. Even alchemy is unique; all recipes are randomized for each character thus the only way to learn is by experimentation.
Features
Unique Features:
Free Terraforming & Tunnel Building. 100% free terraforming and tunnel building means you can dig tunnels, mines and moats and expand them in all dimensions barely without limit! You can raise and lower ground levels with a landfall effect. Substances include soil, rock, granite, ore veins, clay, sand, and much more

Battle Formation System. Strategize for massive battles and provide your units with certain bonuses with the formation system. Keep organised and inside the formation shape to continue to reap the benefits

Unique Alchemy Combinations. There are over 40,000,000 alchemy combinations unique to each player! You need to learn, experiment and create your very own unique combinations. Complementing the hardcore feel of the game, alchemy is not simply a matter of character skill as it strongly emphasises spending time and resources on creating good recipes and combinations

Full Seasonal Weather System. Much like in real life, LiF features seasonal weather that directly affects your life in this feudal world

Complex Food & Cooking System. Cooking is no longer a secondary or non-existent skill. Being a good cook who knows many complex and tasty recipes means that you and your friends will be better fed and will receive skill bonuses

Realistic Player Damage System. Based on human anatomy, with fractures and bleeding wounds, you can create unique and deadly combat tactics

Double Health & Stamina Bars. Double health and stamina bars represent better information about the status of your body. Players can be knocked unconscious or killed. They can also be temporarily out of breath or totally exhausted
These are only a handful of the many features that make Life is Feudal:Your Own unique and true to life in a Medieval world. With hundreds of personal choices and customizations on offer to create endless combinations, your imagination will be your only limitation.
7. 도전과제

히든 도전과제 완료방법 (english)
스팀 통계

Alpinist
Get on the top of the highest mountain

Apex of human capabilities
Reach stats cap

Cardinal
Reach 90 lvl of Piety

Deus Vult!
Max out (90 lvl) 6 combat skills and piety

Excavator
Use over 10 000 units of different substances (soil, rocks, ore, clay etc.) in terraforming abilities

Famous Axeman
Reach 100 in 2H axes mastery skill

Famous Basher
Reach 100 in 2H blunt mastery skill

Famous Berserker
Reach 100 in War cries skill

Famous Warrior
Reach 100 lvl of Warrior skill

Famous Cavalryman
Reach 100 lvl of Mounted fighting skill

Famous Chainmail Master
Reach 100 in Chainmail armors skill

Famous Combatant
Reach 100 in Battle Survival skill

Famous Commander
Reach 100 in Unit and formation skill

Famous Crossbowman
Reach 100 in Crossbows mastery skill

Famous Fencer
Reach 100 in Blades Mastery skill

Famous Lancer
Reach 100 in Lancing skill

Famous Levy
Reach 100 lvl of Chivalry skill

Famous Marksman
Reach 100 in Bows mastery skill

Famous Master of Combat preparations
Reach 100 in Combat preparation skill

Famous Person
Reach 100 in Authority skill

Famous Piercing Arms Master
Reach 100 in Piercing mastery skill

Famous Platemail Master
Reach 100 in Plate armors skill

Famous Polearms Master
Reach 100 in Poleaxes mastery skill

Famous Raider
Reach 100 in Demolition skill

Famous Scale Master
Reach 100 in Scale armors skill

Famous Sergeant
Reach 100 in Drill skill

Famous Shield Master
Reach 100 in Shield mastery skill

Famous Slicer
Reach 100 in 2H blades mastery skill

Famous Soldier
Reach 100 in Equipment maintain skill

Famous Spearman
Reach 100 lvl of Spear mastery skill

Famous Stomper
Reach 100 in Heavy horse handling skill

Grandmaster Alchemist
Reach 100 in Alchemy skill

Grandmaster Architect
Reach 100 in Architecture skill

Grandmaster Armorsmith
Reach 100 in Armorsmithing skill

Grandmaster Artisan
Reach 100 lvl of Artisan skill

Grandmaster Artist
Reach 100 lvl of Arts skill

Grandmaster Beekeeper
Reach 100 lvl of Advanced farming skill

Grandmaster Bow Crafter
Reach 100 in Bowcraft skill

Grandmaster Breeder
Reach 100 in Animal lore skill

Grandmaster Brewmaster
Reach 100 lvl of Brewing skill

Grandmaster Builder
Reach 100 in Construction skill

Grandmaster Carpenter
Reach 100 in Carpentry skill

Grandmaster Powerlifter
Reach 100 lvl of Movement skill

Grandmaster Cook
Reach 100 in Cooking skill

Grandmaster Earthworker
Reach 100 lvl of Digging skill

Grandmaster Engineer
Reach 100 in Warfare engineering skill

Grandmaster Farmer
Reach 100 in Farming skill

Grandmaster Forester
Reach 100 in Forestry skill

Grandmaster Healer
Reach 100 in Healing skill

Grandmaster Herbalist
Reach 100 lvl of Herbalism skill

Grandmaster Horse Trainer
Reach 100 lvl of War horse handling skill

Grandmaster Horseman
Reach 100 lvl of Horseback riding skill

Grandmaster Hunter
Reach 100 lvl of Hunting skill

Grandmaster Jeweler
Reach 100 in Jewelry skill

Grandmaster Mason
Reach 100 in Masonry skill

Grandmaster Mentor
Reach 100 in Mentoring skill

Grandmaster Metalworker
Reach 100 in Smelting skill

Grandmaster Miner
Reach 100 in Mining skill

Grandmaster Naturalist
Reach 100 in Nature's lore skill

Grandmaster Loafer
Reach 100 lvl of General actions skill

Grandmaster Procurer
Reach 100 in Procuration skill

Grandmaster Prospector
Reach 100 lvl of Precious Prospecting skill

Grandmaster Repairman
Reach 100 lvl of Building maintain skill

Grandmaster Smith
Reach 100 in Forging skill

Grandmaster Stone Shaper
Reach 100 lvl of Materials preparation skill

Grandmaster Swimmer
Reach 100 in Swimming skill

Grandmaster Tailor
Reach 100 in Tailoring skill

Harvest time!
Gather from your farm or garden plot

Herbalist-Chemist
Discover all effects of all alchemy ingredients for your character

Highway thug
Knockout a person with a positive alignment

Home, sweet home!
Build your first house

In God we trust!
Pray 20 consecutive days

This is indeed your second life!
Spend 100 hours in game in total

Just 5 more minutes...
Spend 12 hours in game without disconnecting

Knight in shining armor
Reach +100 alignment

Master Alchemist
Reach 90 in Alchemy skill

Master Architect
Reach 90 in Architecture skill
Master Armorsmith
Reach 90 in Armorsmithing skill

Master Artisan
Reach 90 lvl of Artisan skill

Master Artist
Reach 90 lvl of Arts skill

Master Beekeeper
Reach 90 lvl of Advanced farming skill

Master Bow Crafter
Reach 90 in Bowcraft skill

Master Breeder
Reach 90 in Animal lore skill

Master Brewmaster
Reach 90 lvl of Brewing skill

Master Builder
Reach 90 in Construction skill

Master Carpenter
Reach 90 in Carpentry skill

Master Powerlifter
Reach 90 lvl of Movement skill

Master Cook
Reach 90 in Cooking skill

Master Earthworker
Reach 90 lvl of Digging skill

Master Engineer
Reach 90 in Warfare engineering skill

Master Farmer
Reach 90 in Farming skill

Master Forester
Reach 90 in Forestry skill

Master Healer
Reach 90 in Healing skill

Master Herbalist
Reach 90 lvl of Herbalism skill

Master Horse Trainer
Reach 90 lvl of War horse handling skill

Master Horseman
Reach 90 lvl of Horseback riding skill

Master Hunter
Reach 90 lvl of Hunting skill

Master Jeweler
Reach 90 lvl of Jewelry skill

Master Mason
Reach 90 in Masonry skill

Master Mentor
Reach 90 lvl of Mentoring skill

Master Metalworker
Reach 90 in Smelting skill

Master Miner
Reach 90 in Mining skill

Master Naturalist
Reach 90 in Nature's lore skill

Master Loafer
Reach 90 lvl of General actions skill

Master Procurer
Reach 90 in Procuration skill

Master Prospector
Reach 90 lvl of Precious Prospecting skill

Master Repairman
Reach 90 lvl of Building maintain skill

Master Smith
Reach 90 in Forging skill

Master Stone Shaper
Reach 90 lvl of Materials preparation skill

Master Swimmer
Reach 90 lvl of Swimming skill

Master Tailor
Reach 90 in Tailoring skill
Nothing less but a masterpiece of medieval architecture!
Build a Keep

Now that's really big!
Build a Large Keep

On the run
Travel 10 km in total on run

One with the nature
Plant 200 saplings

Pope
Reach 100 in Piety

Skillful Craftsman
Reach crafting skills cap

Strong Warrior
Reach combat skills cap

Move it, sun is too high!
Knockout an overburdened player

Digging someone's way to the grave
Kill someone with a shovel

Well-known Axeman
Reach 90 lvl of 2H axes skill

Well-known Basher
Reach 90 lvl of 2H blunt skill

Well-known Berserker
Reach 90 lvl of War cries skill

Well-known Warrior
Reach 90 lvl of Warrior skill

Well-known Cavalryman
Reach 90 lvl of Mounted fighting skill

Well-known Chainmail Master
Reach 90 lvl of Chainmail armors skill
Well-known Combatant
Reach 90 lvl of Battle Survival skill

Well-known Commander
Reach 90 lvl of Unit and formation skill

Well-known Crossbowman
Reach 90 lvl of Crossbows skill

Well-known Fencer
Reach 90 lvl of Blades skill

Well-known Lancer
Reach 90 lvl of Lancing skill

Well-known Levy
Reach 90 lvl of Chivalry skill

Well-known Marksman
Reach 90 lvl of Bows skill

Well-known Master of Combat preparations
Reach 90 lvl of Combat preparation skill

Well-known Person
Reach 90 lvl of Authority skill

Well-known Piercing Arms Master
Reach 90 lvl of Piercing skill

Well-known Platemail Master
Reach 90 lvl of Plate armors skill

Well-known Polearms Master
Reach 90 lvl of Poleaxes skill

Well-known Raider
Reach 90 lvl of Demolition skill

Well-known Scale Master
Reach 90 lvl of Scale armors skill

Well-known Sergeant
Reach 90 lvl of Drill skill

Well-known Shield Master
Reach 90 lvl of Shield skill

Well-known Slicer
Reach 90 lvl of 2H blades skill

Well-known Soldier
Reach 90 lvl of Equipment maintain skill

Well-known Spearman
Reach 90 lvl of Spear mastery skill
Well-known Stomper
Reach 90 lvl of Heavy horse handling skill