개발
Asteristic Game Studio, Anthony Septim
유통
Asteristic Game Studio
언어
영어, 포르투갈어 - 브라질, 이탈리아어, 중국어 간체, 독일어, 스페인어 - 스페인, 프랑스어
SteamDB
4. DLC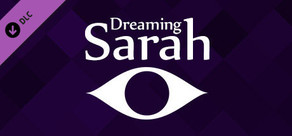 5. 트레이딩 카드

6. 게임 소개
6.1 소개
Inspired by the horror game Yume Nikki, Dreaming Sarah is a surreal adventure platformer game with puzzle elements, an engaging environment, an incredibly diverse cast of characters, and of course, a young girl named Sarah.
Sarah has been on an accident and is in a coma. It's up to you help her wake up by exploring her dream world while collecting items, talking to weird characters and exploring the world around her!
Key Features:
Explore different areas, like a forest, a haunted mansion and even the moon.

Collect gameplay-changing items, like an umbrella that helps Sarah glide around, a manifying glass that changes her size and a necklace that turns her into a fish.

Solve puzzles by paying attention to the scenery, taking notes and exploring the world around you.

Get up to two different endings depending on what you have found or done.

Visit old areas to find new things that appear as you progress in the game.
7. 도전과제

히든 도전과제 완료방법 (english)
스팀 통계

Umbrella
Find the umbrella.

Hat
Find the hat.

Stuffed doll
Find Blockhead.

Heart-shaped key
Find the heart-shaped key.

Juice box
Find the juice box.

ID card
Find the ID card.

Bus card
Find the bus card.

Bullet
Find the bullet.

Magnifying glass
Find the magnifying glass.

Paint bucket
Find the paint bucket.

Shell necklace
Find the shell necklace.

Compass
Find the compass.

Glasses
Find the glasses.

The pill
Find the pill.

Watch
Find the watch.

Bag of seeds
Find the bag of seeds.

The end
Finish the game.

Secret 1
Shrink the eye.

Secret 2
Touch the moon bunny.

Secret 3
Find the dead cat.

Secret 4
Discover the ancient aliens.

Secret 5
Help the pianist.