언어
영어*, 프랑스어, 이탈리아어, 독일어, 스페인어 - 스페인, 포르투갈어 - 브라질, 러시아어, 터키어, 헝가리어, 중국어 간체
*음성이 지원되는 언어
SteamDB
4. DLC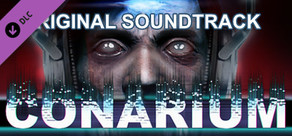 5. 트레이딩 카드

6. 게임 소개
6.1 동영상
6.2 소개
Available Now
https://store.steampowered.com/app/962630/Transient/
게임 정보
Conarium is a chilling Lovecraftian game that follows the gripping story of four scientists and their endeavour to challenge what we normally consider to be the "absolute" limits of nature. Inspired by H.P. Lovecraft's novella At the Mountains of Madness, but largely set after the original story.
You, as Frank Gilman, open your eyes inside a room filled with strange, pulsating noises. Patterns of lights executing a Danse Macabre on the walls is presented by a queer device on the table. Having recalled nothing other than that you're in Upuaut, an Antarctic base located near the South Pole, you find the place deserted and have a distinct feeling of something being terribly wrong. Somehow knowing that your memories cannot guide you enforces a strange feeling of vulnerability, a familiar yet alien sensation of being a part of a peculiar whole... Soon you will discover that having used the device during the expedition, you have died but then returned subtly changed, speaking of strange memories and of strange places. You have lost something important or gained something sinister...
Explore the Antarctic base, as well as dreams and visions. Study clues and unlock secrets, whilst avoiding macabre beings at all cost.
Key features:
A deep and suspense-filled Lovecraftian story with lots of secrets and Easter eggs.

Ominous but wonderful graphics created with Unreal Engine 4.

Multiple endings.

A haunting and atmospheric soundtrack.
Powered by Unreal Engine 4, Conarium aims to bring cutting-edge visuals for a more immersive storytelling and gaming experience.
7. 도전과제

히든 도전과제 완료방법 (english)
스팀 통계

What are you doing out there?
Walk out of opposite sides of the map outside the base.

Bookwurm
Check all the books in the base and the mansion.

Death-defying
Finish the game without dying.

Bell Hop
Manage to run the Link Elevator.

Cryptographer
Solve the radio room puzzle.

Sharp as a Tack
Solve the symbol drawing puzzle at the first try.

Earthly Minds over Delicate Souls
Experience the second ending.

Out of Body Experience
Experience the first ending.

Sparky
Provide electricity to the base.

Deep Dive
Get on the submarine.

Carved Catacombs
Reach the Connection halls.

Demons of the Past
Reach the Mansion for the second time.

Grand Inquisitor
Examine all the notes and diagrams in the game.

Under the Sands
Reach the ruins under Rub'al Khali.

Almost There
Reach the final level.

Glutton for Punishment
Die in five different ways.

Escape Artist
Don't get caught by the mummies in the Connection halls.

Paying Close Attention
Solve the puzzle on the cellar door without any clues.

Perfectionist
Finish the game with 100% progress.

Private Investigator
Find all documents in the game.

Impressionist
Get all notebook drawings in the game.

Super Sleuth
Get all secrets in the game.

Nosy Parker
Examine all objects in the game.

Trophy Hunter
Get all trophy items in the game.

Masquerade
Check all the wooden masks in the mansion.

Wireless Operator
Use the walkietalkie voluntarily, in every location that it is available.