개발
Just Add Water (Developments), Ltd.
유통
Oddworld Inhabitants, Inc.
언어
영어*, 프랑스어, 이탈리아어, 독일어, 스페인어 - 스페인, 일본어, 폴란드어, 포르투갈어 - 브라질, 러시아어, 터키어
*음성이 지원되는 언어
SteamDB
4. DLC
5. 트레이딩 카드

6. 게임 소개
6.1 동영상
6.2 소개
Control Help and Tips
Struggling with Abe and the controls?
Tip: One of the quickest ways to make the controls in New 'n' Tasty a little easier is by switching on the two 'old school' control toggles, which are off by default. These tighten up Abe's movement and make lateral hops much easier to pull off.
Once on, Abe will no longer run without the player pressing the 'run' button, and will hop to the side rather than straight up, making mines easier to leap over and distances easier to judge.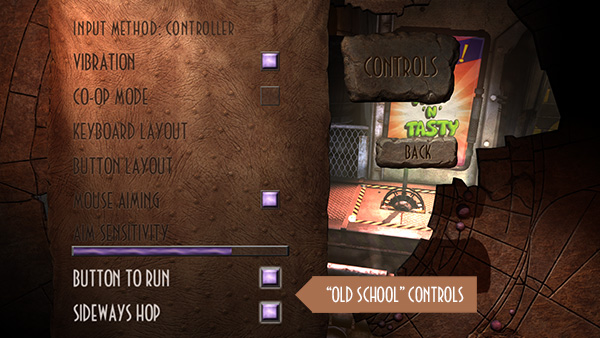 Re-mapping the controls:
New 'n' Tasty supports in-game remapping for controllers and keyboards.
To remap a controller, ensure the "Input Method" is set to Controller, and then go to "Button Layout" and select "Xbox 360" at the top to bring up a dropdown. From the dropdown, select "Custom" and then remap as needed.
Supported controllers:
Windows: Xbox 360; Xbox One; DualShock 4, Steam Controller; Logitech F310, F510, F710; XInput compatible. Others may be configured via in-game remapping tool. Please refer to minimum specs for other formats.
게임 정보

Back To Oddworld
Explore ancient ruins, dodge carnivorous beasts and avoid trigger-happy guards as Abe, the original Oddworld hero in this lovingly recrafted, built from the ground-up and totally recooked take on the classic adventure Oddworld: Abe's Oddysee.
Once a happy floor waxer in Oddworld's biggest meat processing plant, Abe stumbles across his boss's secret plan to turn the factory's slave labor force into the latest in the RuptureFarms Tasty Treats line of novelty meat snacks. Abe now has to save his own skin from the grinders, but simply escaping the flesh farm is only the start of his Oddysee - for many dangers await Abe on his journey to discover his destiny.
Built from scratch from the ground up, enjoy new breathtaking visuals, enhanced audio and improved, deeper gameplay as New 'n' Tasty reignites the original Oddworld game using the latest next-generation technology.
Amazing new graphics
With art direction from series creator Lorne Lanning, Oddworld: New 'n' Tasty offers a view into Oddworld with fidelity never seen before. Fluid animation, new free-moving cameras and high resolution (up to 4K) visuals make RuptureFarms and the surrounding areas look incredible, creating the Oddworld that Lanning always wanted to see.
Revamped controls
Analog controls offer more subtle control over Abe, and new tricks like free aiming, the ability to drop grenades behind you and also sneak whilst crouching open up new avenues for stealthy tactics and inventive speed-running. Optional 'Old School' controls bring back hopping and digital movement too, so the Oddysee purists can get started with some familiarity.
Brand new areas, brand new secrets
From the murky grime of RuptureFarms to the expansive native lands of the Monsaic Lines, through to the vast temples of Scrabania and Paramonia, Oddworld: New 'n' Tasty boasts new areas, subtle gameplay changes and a few surprises. Fans will recognise the huge meat grinders, Scrab holding pens and cavernous caves, but there's more than enough that's new here to keep you on your toes.
7. 도전과제

히든 도전과제 완료방법 (english)
스팀 통계
Act of Odd
Kill 99 Mudokon slaves.

A Long, Hard Slog
Kill 30 Slogs in 30 seconds.

Close Encounters of the Slig Kind
Kill a Slig with any kind of mine.

Close Shave
Escape a Scrab by the skin of your loins.

Cooked To Perfection
Destroy a Chant Suppressor with a cooked grenade.

Disciple of Odd
Rescue a quarter of all the Mudokons.

Don't Get Mad: Get Elum
Ride Elum for 200 meters without stopping.

Escape Fartist
Escape from RuptureFarms without Abe being spotted by any Slig.

Hit the Deck
As a possessed Slig, fire over the head of a cowering Mudokon.

Mine Games
Deactivate 3 toggle mines in a row with no mistakes.

Mudokonga
Rescue 9 Mudokons at the same time.

New 'n' Hasty
Rescue every Mudokon with an overall Best Time of 3:00:00 or less.

Nine-Tenths of the Law
Kill 9 Sligs with a single possessed Slig.

No Place Like Home
Find and use all the secret entrances to RuptureFarms.

Odd Messiah
Rescue every Mudokon while finishing New 'n' Tasty in Hard mode.

Odds and Rockers
Bounce a rock off a wall and on to a mine.

Oops…
Fail to observe your surroundings.

Prophet of Odd
Rescue every Mudokon while finishing New 'n' Tasty in Easy mode.
Rockin' Mudokon
Kill a bat with a rock.

RuptureFarms: Now Hiring!
Kill Sligs in 15 different ways.

Savior of Odd
Rescue every Mudokon while finishing New 'n' Tasty in Normal mode.

Shepherd of Odd
Rescue half of all the Mudokons.

Speed of the Mudanchee
Run from a Scrab for 25 meters and survive.

Speed of the Mudomo
Escape 5 or more pursuing Paramites.

Still Life
Escape Stockyards and Free Fire Zone without triggering the alarm or dying.

Under New Management
Drop 2 Sligs down a single trapdoor at the same time.

Valve Time
Turn off the gas with more than 30 seconds to spare.

Why Do Birds Suddenly Appear…?
Have Abe die in 15 different ways.