개발
Double Fine Productions
유통
Double Fine Productions
언어
영어*, 프랑스어*, 이탈리아어*, 독일어*, 스페인어 - 스페인*, 포르투갈어 - 브라질*
*음성이 지원되는 언어
SteamDB
4. DLC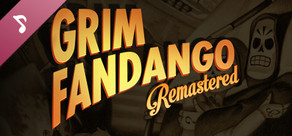 5. 트레이딩 카드

6. 게임 소개
6.1 동영상
6.2 소개
The Making of Grim Fandango Remastered
The makers of Grim Fandango discuss the development of the beloved adventure game and how Double Fine Productions plans to release the original classic to a contemporary audience. Watch The Making of Grim Fandango Here!
게임 정보
Something's rotten in the land of the dead, and you're being played for a sucker. Meet Manny Calavera, travel agent at the Department of Death. He sells luxury packages to souls on their four-year journey to eternal rest. But there's trouble in paradise. Help Manny untangle himself from a conspiracy that threatens his very salvation.
One of the most acclaimed adventure games of all time is now back, better than ever. Grim Fandango's epic story of four years in the life (or death) of Manny Calavera, travel agent to the dead, has been remastered to look, sound, and control even better than when it won GameSpot's Game of the Year award upon its original launch. Grim Fandango still stands as a classic of the genre, with unforgettable characters and unique combination of film noir and Mexican folklore.
Remastered version includes
Repainted, hi-res character textures

New, dynamic lighting

Classic score re-recorded with a full live orchestra

Over 2 hours of exclusive developer commentary

Concept art browser
7. 도전과제

히든 도전과제 완료방법 (english)
스팀 통계

The Right Way
Play the whole game with tank controls. Tim demanded this achievement.

Year 4
Spend four years in the Eighth Underworld.

Year 1
Spend a year in the Eighth Underworld.

Year 3
Spend three years in the Eighth Underwold.

Year 2
Spend two years in the Eighth Underworld.