1. 한국어화
유저 한국어화
2. 가격 (KRW)
4. DLC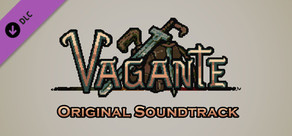 6. 게임 소개
6.1 동영상
6.2 소개
Vagante is an adventure set in a dark fantasy world filled with monsters, demons, and crooks. Despite these dangers, adventurers commonly travel these unforgiving lands questing for fame, riches, and power.
A recent rumor has it that a certain cave at the edge of the woods guards an unfathomable treasure. While a handful of intrepid adventurers have ventured into the cave already, none have returned. Undeterred by the potential danger, you set out by caravan to investigate...
Key Features
Local and Online Co-op - Adventure cooperatively with up to four players, either locally or online through Steam!

Procedural Generation - With procedurally generated levels, no two runs are ever the same, allowing for countless hours of gameplay.

Choose How You Play - Choose a unique class, skin, and background, then customize your character further as you play with your choice of unique class skills at each level.

Enchanted Items - Discover magic items that bestow powerful enchantments and game changing abilities.

Discover Secrets - Keep track of unlocked classes, backgrounds, music, and more in the Book of Secrets.

Explore a Rich World - Explore five unique areas each with their own set of dangers such as monsters, unique bosses, and traps.

Tough, but Fair - Play a game designed for players looking for a challenging but rewarding experience.
7. 도전과제

히든 도전과제 완료방법 (english)
스팀 통계

Into the Breach
Complete the Catacombs

Fresh Air
Complete the Caves

Darkness Beckons
Complete the Forest

The End?
Complete the Rifts

Oh the Horror!
Kill the Abomination

Slayer of Giants
Kill the Behemoth

Nothing to Brood About
Kill the Brood Demon

Myth Slayer
Kill the Chimera

Dragon Slayer
Kill the Baby Dragon

No Masters!
Kill the Goblin King

Fungicide
Kill the Mushroom Golem

Iced
Kill the Evil Mage

Infernal Engine
Kill the Rust Fiend
Forbidden Magic
Kill the Necromancer

Weed Whacker
Kill the Vine Lord

Locked for a Reason
Kill the Tower Serpent

The Dark Side
Kill the Shadow Knight

Will-No-Wisp
Kill the Wisp Queen

Bird Food
Kill the Rock Worm

Stay in your Grave!
Kill the Zombie Dragon

The Cycle Continues
Beat the Game without All Rune Orbs

Conclusion
Beat the Game with All Rune Orbs