개발
Gunfire Games, Vigil Games, THQ Nordic
언어
영어*, 프랑스어*, 이탈리아어*, 독일어*, 스페인어 - 스페인*, 체코어, 네덜란드어, 폴란드어, 러시아어*
*음성이 지원되는 언어
SteamDB
1. 한국어화
유저 한국어화
2. 가격 (KRW)
세일 종료:
특별 할인! 남은 시간: 2023년 1월 6일
4. DLC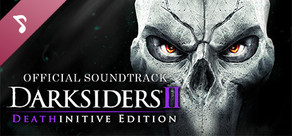 5. 트레이딩 카드

6. 게임 소개
6.1 동영상
6.2 소개
Release the Fury!
http://store.steampowered.com/app/606280
게임 정보
Become the terrifying force which everything fears but nothing can escape. Awakened by the End of Days, Death, the most feared of the legendary Four Horsemen embarks on a quest to redeem his brother's name. Along the way, the Horseman discovers that an ancient grudge may threaten all of Creation. Death lives!
Deathinitive Edition Features:
Darksiders 2 with all DLC included and integrated into the game which offers a total playtime of more than 30 hours

Reworked and tuned game balancing and loot distribution

Improved Graphic Render Engine for higher visual quality especially in terms of lighting and shadows

Improved and reworked level, character and environment graphics

Running in native 1080p resolution

Steam Trading Cards
Features:
Play Death: Become the most feared of the legendary Four Horsemen, able to destroy entire worlds and battle forces beyond Heaven and Hell.

Epic Universe: Unlike anything the player has seen before, delivered in the unique style of Joe Mad.

Player Choice & Customization: Customize your experience with varied armor sets, weapons, and Skill Trees allowing players to create their own Death.

Replay-ability: Explore a vast open world, complete dozens of side quests and customize your Death with a full leveling system, Skill Trees and endless equipment combinations.

Traversal: Death is a nimble and agile character capable of incredible acrobatic feats allowing the player to explore the world like never before.

7. 도전과제

히든 도전과제 완료방법 (english)
스팀 통계

A Stroll In The Demonic Park
Complete the game on any difficulty setting

A True Horseman
Complete the game on APOCALYPTIC

Abracadabra
Open all Death Tombs

BFA
Unlock Everything

Bravo Old Chap
Defeat Wicked K

Epic!
Death Reaches Level 30

Feeding Time
Level Up Your 1st Possessed Weapon

Four My Brother
Complete the game on NORMAL

Full Potential
Unlock All Combat Moves & Upgrades

Grim Reaping
Unlock Reaper Form

Is There Anyone Else?
Complete The Crucible

It's Definitive
Complete the game on DEATHINITIVE

Mass Ruckus
Equip elite items to all slots

The Secondary Adventure
Complete all Secondary Quests