4. DLC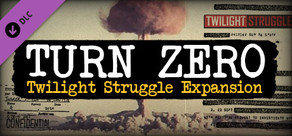 6. 게임 소개
6.1 동영상
6.2 소개
Twilight Struggle is a strategy game set in the Cold War that presents new and different challenges with every game session. The game map is a world map of the period, whereon players move units and exert influence in attempts to gain allies and control for their superpower. The playable events in the game cover a vast array of historical happenings, from the Arab-Israeli conflicts of 1948 and 1967, to Vietnam and the U.S. peace movement, to the Cuban Missile Crisis and other such incidents that brought the world to the brink of nuclear annihilation.

Play as the US or USSR during the Cold War and change the course of history.

Highlights
• Events found in the game are actual events that occurred during the Cold War.
• Full asynchronous support for multiplayer online games.
7. 도전과제

히든 도전과제 완료방법 (english)
스팀 통계

The Race is On
Be the first player in a game to advance in the space race.

Way of Life
Gain Domination in a region.

Terminated
Lose a game against the AI Player.

It Will Not Stop Until You Are Dead
Lose a game against the AI Player in final scoring.

Emperor of Southeast Asia
Score 8 VP when Southeast Asia Scoring is played.

Rocket Man
Win a game after reaching the end of the space race track.

How about a nice game of chess?
Win a game against the AI Player.

Taste of Victory
Win an online game.

Killer of Giants
Win an online game against an opponent with a rating at least 300 higher than yours.

Star-Spangled Banner
Win a game as the USA.

Workers of the World Unite
Win a game as the USSR.

Something Up My Sleeve
Win a game by getting 20 VP before final scoring.

Thirteen Days
Win a game via Cuban Missile Crisis.

Mutually Assured Destruction
Win a game with DEFCON 1.

Go for the Jugular
Win a game by controlling Europe.

Welcome to the New Millennium
Win a game in final scoring.

The Stevenson Conundrum
Win a game due to the Victory Point Track when your opponent has Domination in at least 4 regions.

The Only Way to Play
Win a game with Wargames.

Bulldozer
Win a game in the Early War.

In from the Cold
Complete the tutorial.