언어
영어*, 프랑스어, 이탈리아어, 독일어, 스페인어 - 스페인, 네덜란드어, 포르투갈어 - 브라질, 러시아어
*음성이 지원되는 언어
SteamDB
5. 트레이딩 카드

6. 게임 소개
6.1 동영상
6.2 소개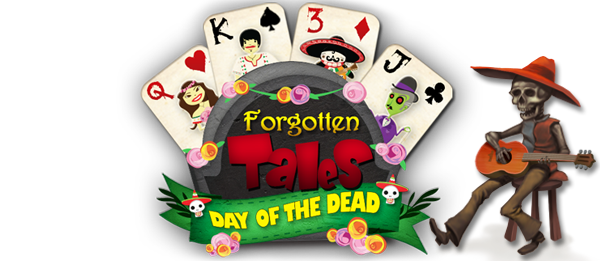 There is an old legend in Mexico that on "Dia de los Muertos" the Day of the Dead, the gates of heaven will open and the souls of our loved ones can visit the land of the living. That's where the story of Manuel and Maria begins. An evil soul has kidnapped Maria. And now Manuel asks for your help to join him in this incredible adventure through the land of the dead after his beloved bride. Journey through beautiful scenery, relaxing music and help funny characters to find their belongings. Prove your skills in this challenging solitaire game!
Steam Trading Cards

Features
tons of unique and clever puzzles

a compelling story of love

a rich and vibrant world

tough challenges and great rewards
What people say about Forgotten Tales
What a fantastic solitaire game, it even has a fantastic story to go along with it.
I loved the features, the graphics, and the Solitaire game, but most of all, it has a very interesting story, enjoy!
-
pennmom36, Big Fish Games
I love this solitaire game! It's colorful, the characters are funny the story line is cute. It's different than most of the other solitaire games which can get repetitive and therefore boring. I would recommend this game.
-
Mernon54, Big Fish Games
7. 도전과제

히든 도전과제 완료방법 (english)
스팀 통계

Perfect Chapter
Finish all levels of chapter 1 with 3 skulls each level

Combo Apprentice
Make a combo of 20 cards

Golden Skull Collector
Get 150 golden skulls

Keymaker
Open at least 40 padlocks

Bomb Master
Explode at least 100 bombs

Joker
Use the Joker at least 12 times

Combo Expert
Make a combo of 32 cards

Stonebreaker
Break at least 25 stone walls

Golden Skull Master
Get 300 golden skulls

Rocket Master
Use at least 150 rockets

Don't Stop Me Now
Play 15 levels in a row

Half Way!
Play 50 levels

Sword of Justice
Use the Sword booster at least 10 times

Combo Master
Make a combo of 36 cards or higher

Reveal The Future
Use the Crystal Ball booster at least 5 times

Give Me Some Extras
Use the Extra Cards booster at least 10 times

Firefighter
Put the fire out from at least 22 cards

My Little Doll
Find Valentina's doll

Candy Day
Find Valentina's Lollipop
A Black Cat
Find Valentina's cat

Black Cat Fur
Help Valentina and get the black cat fur

I'll Play A Song
Find El Mariachi's guitar

El Sombrero
Find El Mariachi's hat

Fake Mustache
Find El Mariachi's mustache

Here Is Your Ginger
Help El Mariachi and get the ginger

Walk Again
Find Emmanuel's leg

Push-ups
Find Emmanuel's arms
Please, Fix Me
Find Emmanuel's spine and ribs

My Herbs
Help Emmanuel and get the burdock root

My Pretty Shoes
Find Frida's shoes

Fan Dance
Find Frida's fan

Beautiful Dancer
Find Frida's hair ornament

Nightshades
Help Frida and get the nightshades flower

Mascaras Boy
Find Miguel's maracas

Sugar Skulls
Find Miguel's sugar skulls

Let's Play Soccer
Find Miguel's soccer ball

Happy Little Frog
Help Miguel and get the frog

Dig A Grave
Find Sebastián's shovel

Rest In Peace
Find Sebastián's candles

Light A Candle
Find Sebastián's matches

Mandrake
Help Sebastián and get the mandrake plant

Can't See A Thing
Find grandma's glasses

Toothless
Find grandma's dentures

Walking Sticks
Find grandma's walking sticks

A Dangerous Fruit
Help grandma and get the doll's eye fruit

My Costume
Find Héctor Guerrero's singlet

Moving Around
Find Héctor Guerrero's boots
The Champion
Find Héctor Guerrero's championship belt

Luck Salamander
Help Héctor Guerrero and get the salamander

Protect My Identity
Find El Justiciero's mask

A Cape I Must Have
Find El Justiciero's cape

I'm Ready
Find El Justiciero's sword

The Snake
Help El Justiceiro and get the snake

Break The Chains
Find a pair of pliers

The Coffin
Find a coffin to imprison El Toro

Nails
Find nails to use them in the coffin

Hammer
Find a hammer to shut El Toro up in the coffin

The Potion
Find all ingredients to complete the potion