유통
Good Shepherd Entertainment
언어
영어*, 폴란드어, 프랑스어, 독일어, 러시아어, 중국어 간체, 이탈리아어, 스페인어 - 스페인
*음성이 지원되는 언어
SteamDB
1. 한국어화
2. 가격 (KRW)
세일 종료:
특별 할인! 남은 시간: 2023년 1월 6일
4. DLC
5. 트레이딩 카드

6. 게임 소개
6.1 동영상
6.2 소개
디지털 디럭스 에디션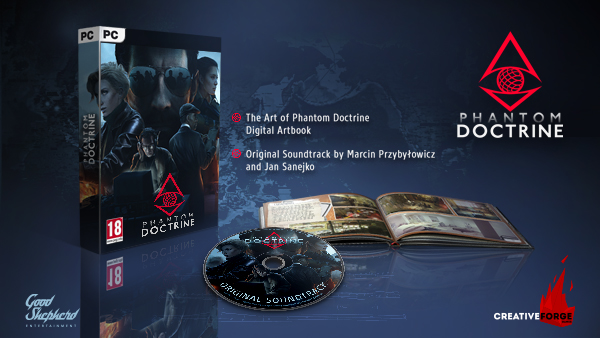 The Phantom Doctrine Deluxe Edition includes the game, a Digital copy of its full Original Soundtrack, and its comprehensive Digital Artbook. The full Phantom Doctrine Original Digital Soundtrack includes all of the riveting tracks composed by celebrated Composer and Sound Designers Marcin Przybyłowicz (The Witcher series, Hard West) and Jan Sanejko. All tracks are provided as High Quality MP3, and FLAC files.
Official Manual Now Available
The Official Phantom Doctrine Manual is now available for everyone. This digital manual breaks down the game's key mechanics, provides more information about its story, and includes useful tips & tricks which can help any agent turn the tide of battle in their favour. It's available for online viewing or as a PDF download from the following link: https://store.steampowered.com/manual/559100
게임 정보
Phantom Doctrine is a strategic turn-based espionage thriller set at the peak of the Cold War. Drawing on a wide variety of influences and capturing the subtle intrigue of classic spy films, the game thrust the player into a mysterious world of covert operations, counterintelligence, conspiracy and paranoia.
As leader of a secret organization known only as The Cabal, you are charged with preventing a global conspiracy that seeks to pit leader against leader, and nation against nation. By carrying out secret missions, investigating classified files, and interrogating enemy agents, a sinister plot is uncovered. With the clock ticking, it must be thwarted in order to save the world from an unthinkable fate.
Features
A Deep Single Player Story Campaign: the 40+ hour Single player campaign mode features a rich gripping plot woven with numerous historical events and characters to bring the terrifying reality of the Cold War to life from a unique perspective.

Next-generation turn-based combat: offers unprecedented flexibility of movement and actions, including variable Overwatch modes and assault-oriented Breach ability.

Expanded battlefield: assets can be positioned around the world, enabling you to call for assistance in the heat of battle. But the enemy can also bring in reinforcements, including heavy weapons and even air support. Don't bring a knife to a gunfight.

Knowledge is power: Improve your chances of success by infiltrating mission locations with undercover operatives. Attempt to stay one step ahead of enemy agents, who are also preparing to spring their own devious traps.

Lurk in the shadows with fully-fledged stealth gameplay: Clandestine operations can be completed with muffled weapons, silent takedowns and cutting edge Cold War technology.

Take charge of the crucial counterintelligence operation: Recruit from both the KGB and the CIA, the criminal fraternity, or even utilise the unique talents of subjects of secret government experiments. Weapons, resources and contacts can be secured around the globe, enabling you to command from afar. But if the situation requires a hands-on approach, you will be locked, loaded and ready to fight.

Innovative Investigation Board: Utilizing a classic pinboard and string approach, the Investigation Board is the hub from where cases, locations and individuals can be researched to reveal new missions, resources and technologies. In Phantom Doctrine, investigation and intel is an active and vital element of success.

Multiplayer Battles: lose friends and make new enemies in ruthless online multiplayer matches. Experience the deviousness and lethality of Phantom Doctrine in accessible 1v1 skirmishes.

Utilize ruthless Technology: New capabilities can either be stolen from the enemy or researched, and then ruthlessly used to your advantage. Often experimental and morally dubious, brainwashing, interrogation, body engineering and chemical enhancement are all fair game as you extract information by any means necessary.

Fully customizable character creation: Operatives can be customized each time they need a new identity. Change their appearance, forge their documents, train them in the deadly arts and send them back into the field.

Carefully Designed hand-crafted levels: Combining the best of both worlds: the quality of large, hand-designed maps and meticulous, smart design ensuring visual and gameplay variety. Travel the world of the 1980s in the grip of the Cold War on both sides of the Iron Curtain.

Replayable modular campaign: a wide array of mechanics ensures markedly different playthroughs. A unique experience is guaranteed by randomly generated character names and backgrounds, algorithmically populated and adapted maps, and randomized intelligence snippets.

A spy thriller from two different points of view: Play as either a former KGB counterintelligence operative or a renegade CIA wet work commando. Each has to come to terms with the truth and challenge the global conspiracy. Complete the campaign to be rewarded with an additional protagonist in Extended Playthrough.

No mission is too big or too small: whether infiltrating a busy government facility to clinically assassinate a target, or mounting a full frontal assault on an enemy base. With optional objectives linked to a mission's complexity, as well as loot and intelligence to collect, every decision has an impact.

7. 도전과제

히든 도전과제 완료방법 (english)
스팀 통계

Lootcrates are Forever
Collect all loot and documents on a single tactical level.

Syndicate Engineering
Engineer an agent with all stats at 140 or above.

Step into the Breach
Breach a room using four or more agents.

Tactical Support
Own at least one of each Support Power type in a single playthrough.
Well-equipped
Research all tech upgrades in a single playthrough.

Bite the Bullet
Survive an ambush.

Scientist
Apply 50 chemical compounds.

Misplaced Trust
Witness an agent betrayal during a tactical mission.

Blank Slate
Successfully brainwash an agent.

Merchant
Buy 50 items.

Airborne Extraction
Purchase helicopter evac for a tactical mission.

Tailor
Change an agent's identity.

Cold Truce
Start a tactical mission with agents from CIA, KGB, Mossad, Stasi and SB in one team.

Tinker
Craft 50 items.

Inside Job
Destroy 5 enemy cells using sleeper agents.

Tactical Espionage
Find 50 secrets on tactical levels.

US Intelligence
As an agent of the CIA, verify whether your mentor's suspicions were correct.

Same, but Different
Recover the Marquis cargo from a different safehouse.
Death of a Citizen
Kill the Beholder mastermind in Munich.

The End? - Easy
Dismantle the conspiracy on Easy difficulty.

The End? - Hard
Dismantle the conspiracy on Hard difficulty.

The Whole Truth
Tie up the very final loose end.

The End? - Normal
Dismantle the conspiracy on Normal difficulty.

Comrade Spy
As an agent of the KGB, execute your top secret orders.

Counterfeit Fortune
Forge $500,000.

Pacifist
Finish a level in infiltration without hurting anyone.

Soldier
Kill 100 enemies.

Licence to Kill
Kill 15 agents.

Veteran
Kill 250 enemies.

Sadist
Kill six enemies in one turn.

Spy
Extract security data from Chicago's tallest tower.

Blessing in Disguise
Rescue the Opposition leader with the help of a disguised agent.

No One Noticed
Kidnap the Triad boss without raising alarm.

Tactical Plunder
Loot 50 containers on tactical levels.

Top Tier
Have an agent reach maximum level.

Silent Power
Mod a shotgun with a silencer.

Conspiracy Revealed
Solve a secret file.

Calculated Risk
Implant and successfully use a trigger phrase to your benefit.

Trust No One
Complete all secret files manually in a single playthrough.

Fully Operational
Unlock all facilities.

Combined Arms
Use four support powers in one turn.