4. DLC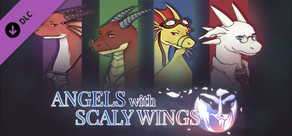 5. 트레이딩 카드

6. 게임 소개
6.1 동영상
6.2 소개
Angels with Scaly Wings is a unique visual novel set in a world populated by dragons.
After the discovery of a mysterious portal, you are selected as one of the few humans to travel to the world of dragons. While you serve as an ambassador, you learn more about this strangely familiar place, and discover that your human colleague knows more than he's letting on…
It will be up to you and the friends you make to uncover the conspiracy that threatens the newly discovered world - and in the process, you may even find love.

Epic storyline

With a script of over 175.000 words, our mindbending story will lead you through a number of dramatic twists and turns.


Hang out with the locals

Meet with a variety of dragons on 5 main and 5 secondary character routes. Listen to their stories and learn about their hopes, dreams and problems.


The choice is yours

Make deep, impactful decisions that can affect the game world permanently and lead you to more than 13 different endings.


A town full of secrets

Investigate a number of mysteries during free time sections. Manage your time wisely and be careful who you meet with, as each encounter may bring forth unintended consequences.


Unlockable gallery

Find exclusive images of the main cast.
7. 도전과제

히든 도전과제 완료방법 (english)
스팀 통계

Altruist
Help Katsuharu.

Archeologist
Find a handful of dirt.

Audiophile
Listen to a bunch of music.

Base Finder
Find a mysterious base.

Blood Donation
Give Anna your blood.

Bookworm
Read a bunch of books.

Bravery
Order the daily special.

Cartographer
Acquire a map.

Daredevil
Drink a mysterious liquid.

Disrobement
Get Adine to remove her headgear.

Eau de Dragon
Examine Bryce's blanket.

Fast Forward
Skip ahead 10 times.

Finders, Keepers
Acquire the bloody bandage.

Flawless Run
Do well in all investigations in a single playthrough.

Fruitarian
Learn a lot about fruits.

General Knowledgist
Answer Anna's questions correctly.

In Loco Parentis
Return the eggs to the hatchery.

Interrogator 1
Interrogate Damion.

Interrogator 2
Interrogate Anna.

Investigator 1
Do well on the first investigation.

Investigator 2
Do well on the second investigation.

Investigator 3
Do well on the third investigation.

Landscaper
Appreciate the landscape.

Lazy
Decide not to meet anyone or investigate 10 times.

Leg Stretcher
Stretch your legs.

Librarian
Bring Remy's books into the correct order.

Memories
Look at Remy's pictures.

Nuisance
Refuse to help Bryce 99 times.
Orb Finder
Find a mysterious orb.

Ovicide
Waste a perfectly good batch of eggs.

Patient
Wait for Remy until you get bored.

Popular
Have two messages waiting for you at the same time.

Prankster
Play a prank on Bryce.

Prescription
Take a dragon dose of medication.

Reckless
Go to the portal.

Research Material
Look at Bryce's magazine.

Snoop
Look at Anna's envelope.

Souvenir
Keep the seashells.

Sphere Builder
Assemble the sphere.

Stalker
Follow Vara.

Teetotaler
Reject Bryce's invitation.

The Artisan
Meet with Katsuharu.

The Politician
Meet with Emera.

The Student
Meet with Kevin.

Unmasking
See what lies beneath the mask.

Utterly Pointless Achievement
Do a thing.

Window Shopper
Look at everything the store has to offer.

You are a winner!
Beat Sebastian at his own game.