유통
Perfect World Entertainment
언어
영어*, 프랑스어*, 이탈리아어*, 독일어*, 스페인어 - 스페인*, 러시아어*, 중국어 간체, 포르투갈어 - 브라질, 중국어 번체
*음성이 지원되는 언어
SteamDB
4. DLC
5. 트레이딩 카드

6. 게임 소개
6.1 동영상
6.2 소개
NEW CONTENT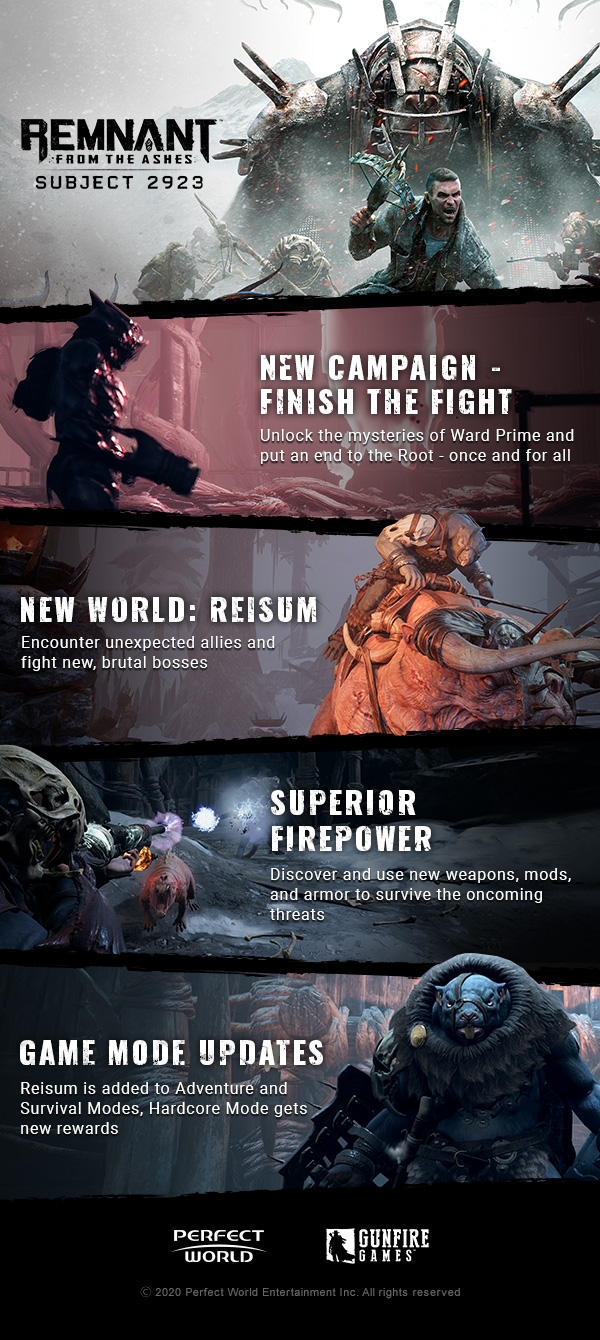 게임 정보
Remnant: From the Ashes
is a third-person survival action shooter set in a post-apocalyptic world overrun by monstrous creatures. As one of the last remnants of humanity, you'll set out alone or alongside up to two other players to face down hordes of deadly enemies and epic bosses, and try to carve a foothold, rebuild, and then retake what was lost.
A REMNANT OF MANKIND
The world has been thrown into chaos by an ancient evil from another dimension. Humanity is struggling to survive, but they possess the technology to open portals to other realms and alternate realities. They must travel through these portals to uncover the mystery of where the evil came from, scavenge resources to stay alive, and fight back to carve out a foothold for mankind to rebuild...
ENDLESS FANTASTIC REALMS AWAIT
Explore dynamically-generated worlds that change each time you play through them, creating new maps, enemy encounters, quest opportunities, and in-world events. Each of the game's four unique worlds is filled with monstrous denizens and environments that will provide fresh challenges with each playthrough. Adapt and explore… or die trying.
SCAVENGE. UPGRADE. SPECIALIZE.
Overcome tough-as-nails enemies and epic bosses throughout hostile environments to earn experience, valuable loot and upgrade materials you can use to build a wicked arsenal of weapons, armor, and modifications to approach each encounter dozens of unique ways.
STRENGTH IN NUMBERS.
Invading other worlds to seek an end to the Root is dangerous and survival is far from guaranteed. Team up with up to two other players to increase your chances of survival. Teamwork is necessary to make it through the game's toughest challenges… and unlock its greatest rewards.
7. 도전과제

히든 도전과제 완료방법 (english)
스팀 통계

First…But Not the Last!
Acquire first trait

Equipment Enthusiast
Acquire 10 armor sets

Good Start
Acquire 10 traits

Fashion!
Purchase 15 Armor Skins

Mod Enthusiast
Acquire 15 weapon mods

That's a Lot of Traits!
Acquire 20 traits

Unleash Your Potential
Acquire 30 traits
Fashion is Danger
Purchase 40 Armor Skins

Equipment Collector
Acquire 5 armor sets

Mod Collector
Acquire 5 weapon mods

Fade to White
Activate the Ward 13 World Stone

Ready For Action
Craft a weapon using material from a defeated world boss

Like a Boss
Upgrade a boss weapon to 5

Not So Special
Defeat 100 special enemies

Dominator
Defeat 10 Bosses in a row in Survival Mode

Survivor
Defeat 5 Bosses in a row in Survival Mode

Trait Dabbler
Upgrade any trait to 10

Trait Focus
Upgrade any trait to 20

Scrap Harvester
Acquire 100,000 scrap

Scrap Collector
Acquire 200,000 scrap

One Person's Scrap...
Acquire 50,000 scrap

This Watch...
Acquire Mudtooth's pocket watch

Heart of a Dragon
Upgrade Dragon Heart

Hard Choices
Upgrade first weapon

Halfway There
Upgrade any weapon to +10

Push It to the Limit
Upgrade any weapon to +20