언어
영어, 프랑스어, 독일어, 이탈리아어, 스페인어 - 스페인
SteamDB
4. DLC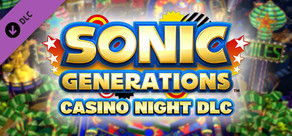 6. 게임 소개
6.1 소개
Sonic Generations now includes the 'Casino Night DLC' for free
Sonic Generations:
The ultimate celebration of 20 Years of Sonic gaming, Sonic Generations delivers the definitive experience for Sonic fans new and old.
Sonic's universe is thrown into chaos when a mysterious new power comes into force, creating 'time holes' which take Sonic and his friends back in time. Whilst there, Sonic runs into some very familiar characters from his past including a younger version of himself! Now they must team up to defeat their enemies, save their friends, and find out who is behind this diabolical deed.
Key Features:
Twice the Fun - Play as both Classic Sonic and Modern Sonic in the ultimate Sonic experience. Master the moves of each character as they race through each environment on their own designed built track.

The Best Bits Just Got Better - Iconic environments from gaming history come to life in beautiful HD for the ultimate Sonic adventure, each revisited, recreated and re-imagined with stunning results.

All New Experience - Play some of your gaming's most iconic environments in a whole new way with famous Sonic stages presented in stunning new stereoscopic 3D.

Unlock New Adventures - Once you complete each level and 'free' Sonic's captured friends, you'll get to go back and take on more challenges with them at your side.

Infamous Bosses and Rivals - Take on some of the most notorious characters from Sonic's past as you fight for ultimate supremacy.

Master Your Moves - Master Classic Sonics famous spin-dash attack and utilise Modern Sonic's 'Boost' as you complete all new tracks.
Casino Night DLC:
Play through the iconic 'Casino Night' Pinball stage inspired by 'Sonic The Hedgehog 2'
7. 도전과제

히든 도전과제 완료방법 (english)
스팀 통계

Action Hero
Performed all of Sonic's actions in Act 2.

Bonds of Friendship
Completed all of Sonic's friends' Challenges.

The Opening Act
Completed the first stage.

Can't Touch This
Took no damage while defeating the final boss.

(Hedge)Hogging It All Up!
Got all collectibles.

Walk on Water
Cleared CHEMICAL PLANT without entering the water.

All Stages Clear!
Cleared Sonic Generations.

Eradicator
Defeated 100 enemies.
A 30-Second Test
Participated in a 30 Second Trial.

Join the Ranks
Joined the rankings.

Blue Comet
Got Rank S in acts 12 times.

Bright Star
Got Rank S in an act.

Shooting Star
Got Rank S in acts three times.

Blazing Meteor
Got Rank S in acts seven times.

Big Bang
Got Rank S in all acts.

Greased Lightning
Cleared Green Hill within one minute.

Jump for Joy!
Found the spring hidden in GREEN HILL Act 1 and reached the goal with a Red Star Ring.

Mission Accomplished!
Cleared all the missions.

Halfway Point
Cleared half the missions.

Red Ring Collector
Got all Red Star Rings.

Ring King
Reached the goal without dropping any of the rings you collected in GREEN HILL Act 1.

Mad Skillz
Got all custom skills.

Walkie Talkie
Chatted with all of Sonic's friends you saved.

Time Attacker
Played Time Attack on all stages.

Trickstar
Executed a trick with a seven-step combo or longer.