개발
Marmalade Game Studio Ltd
유통
Marmalade Game Studio Ltd
언어
영어, 프랑스어, 이탈리아어, 독일어, 스페인어 - 스페인, 중국어 간체, 일본어
SteamDB
4. DLC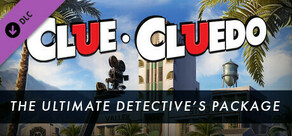 5. 트레이딩 카드

6. 게임 소개
6.1 동영상
6.2 소개
CLUE/CLUEDO
is the classic mystery game - a grand mansion … a dastardly murder … a gathering of suspicious characters. Now you can play the beloved Hasbro family board game on Steam!
WHO
, with
WHAT
weapon and
WHERE?
Join Scarlett, Mustard, Peacock, Green, Orchid and Plum on a night of murder and mystery in Tudor Mansion. Roll the dice to move around the mansion and ask questions:
"I suggest it was Miss Scarlett, with the Rope, in the Study!"
FEATURES:
Single-player against customizable AI.

Online multiplayer for up to 6 players.

Private games against friends.

Cross-platform multiplayer - play against other sleuths on Steam, iOS or Android.

Compete against the world with weekly leaderboards.

Innovative logic-assisted virtual Clue Sheet that allows for advanced note-taking.

All new themes available for purchase that transform the board and characters. Take a trip to tinseltown with the Hollywood theme, or step on board the Murder Express!
Get the official game now, and crack the case!
7. 도전과제

히든 도전과제 완료방법 (english)
스팀 통계

"Believe no-one, doubt everything."
Roll the dice 1000 times.

"It is my weakness ..."
Roll the dice 2000 times.
Gifted Green
Win 10 games as Green.

"Just clear away the litter ..."
Make an entry in the Clue Sheet.

Mustard Maestro
Win a 10 games as Mustard.

Omniscient Orchid
Win 10 games as Orchid.

Private Eye Peacock
Win 10 games as Peacock.

Plum Perfection
Win 10 games as Plum.

"... a true friend will help you move a body."
Join and complete a private game with friends.

"A good friend will help you move ..."
Host and complete a private game with friends.

Scarlett Sage
Win a 10 games as Scarlett.

"Just one more thing ..."
Make a suggestion where no character can show you a card.

"This time there would be no witnesses."
Win 10 games.

"Dead men are heavier than broken hearts."
Win 50 Games of Cluedo

"Elementary, my dear ..."
Win an online game.

"I hunt alone"
Win a Single Player Game of Cluedo