언어
영어, 프랑스어, 독일어, 스페인어 - 스페인, 러시아어, 중국어 간체, 스페인어-중남미
SteamDB
1. 한국어화
유저 한국어화
2. 가격 (KRW)
세일 종료:
특별 할인! 남은 시간: 2022년 12월 15일
4. DLC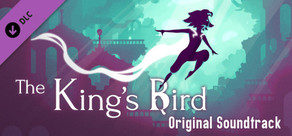 6. 게임 소개
6.1 동영상
6.2 소개
Flight · Flow · Freedom
Escape into a world kept secret by a tyrant, and discover the truth about your freedom. The King's Bird is an artistic, momentum-based game that seamlessly combines precision-platforming with physics-based gliding.
A new yet easily accessible take on the precision-platforming genre.
Dynamic background music and sounds that change based on your movements

Text-less narrative told through visuals in motion

Five unique worlds to explore, full of vibrance and colorful silhouettes, with inspirations from ancient Mayan, Southeast Asian, and Roman cultures

7. 도전과제

히든 도전과제 완료방법 (english)
스팀 통계

Storyteller
Found all of the spirit birds across the world

The Way It Was, Many Years Ago
Destroy the Cage and usher in a new era of freedom

The Way It Was, Not Long Ago
Restore the Barrier and usher in a new era of peace

Escape Artist
Escape the Fallen Kingdom in under 10 minutes

The Fallen Kingdom
Complete the Fallen Kingdom

The Forest Kingdom
Complete all levels in the Forest Kingdom

Forest Explorer
Found all the spirit birds in the Forest Kingdom

The Lake Kingdom
Complete all levels in the Lake Kingdom

Lake Explorer
Found all the spirit birds in the Lake Kingdom

The Sky Kingdom
Complete all levels in the Sky Kingdom

Sky Explorer
Found all the spirit birds in the Sky Kingdom

Triumph
Win the Battle for the Last Kingdom