4. DLC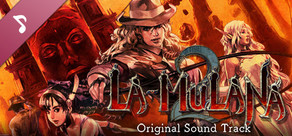 6. 게임 소개
6.1 동영상
6.2 소개

La-Mulana 2 features sprawling ancient ruins, mind-boggling mysteries, untold numbers of items, and terrible enemies combining to form what is possibly the perfect Metroidvania-style "archaeological ruin exploration action game".
In La-Mulana 2, you take on the role of Lumisa Kosugi - daughter of the previous title's hero - as she explores the ancient ruins of La-Mulana, said to be the cradle of human civilization. Desperate to find the cause of the numerous recent appearances of monsters from the ruins, Lumisa heads to the "other" La-Mulana: the ruins known as Eg-Lana.
Explore the vast ruins comprising multiple field maps, solve mysteries and riddles using the stone tablets and messages you discover along the way, and take out huge monsters known as "Guardians" as you make your way to the deepest depths of the ruins.
You won't believe the awesome mystery of Eg-Lana awaiting you at the end of your journey...

La-Mulana was known as a "Metroidvania"-style game (a 2D action platformer with an emphasis on non-linear exploration). That said, the real core of the game is in deciphering the riddles scattered throughout the game, and solving the puzzles that exist as part of the ruins.
A classic experience
: As with its predecessor, La-Mulana 2 will not feature a tutorial or a long-winded sidekick. As a seasoned explorer, it's up to you to discover the secrets hidden within the ruins and find the truth on your own.
Explore at your own pace
: By deciphering cryptic text on the monuments scattered throughout the ruins, you will gradually unravel the mystery of the ruins. Which parts of the sprawling underground you tackle, and in what order, is up to you. Sometimes you will need to use changes in backgrounds, mysterious sounds, the strength of enemies, or the sneakiness of traps to detect subtle changes in your surroundings.
A colossal adventure
: We have designed a variety of zones, and have created a mystery deep enough to encompass a gigantic cave system. This is a very large-scale indie title. We predict newcomers to the series will probably be able to clear the game in 20 to 30 hours. Because of the non-linear nature of Eg-Lana, La-Mulana 2 will have plenty of replayability.
New horrors, new weapons
: Plenty of ferocious and terrifying monsters and guardians stand in your way in the depths of this new underground network. Fortunately, you will also have an arsenal of tools and weapons at your disposal to help you on your journey.
Widescreen support
: The first La-Mulana was a remake of a retro-style game that ran in a 4:3 aspect ratio, which made widescreen support impossible. For La-Mulana 2, the various maps and rooms are designed to be 16:9-compatible, making it perfect for widescreen TVs and monitors.
The question we've asked ourselves throughout development is: "How can we make an old-school 2D game take advantage of advancements in present-day technology?"

Become an adventurer and explore sprawling ancient ruins

Gather hints to solve the various mysteries of the ruins

Dive into the action as you fight off tough enemies seeking to impede your progress

A detailed and beautifully dot-rendered world

Seven main weapons and over ten sub-weapons

Over 60 items of various types to help you explore the ruins

Over 20 apps to install on your trusty adventurer's tablet, the "Mobile Super X3"

Includes reference book with over 200 monsters and other characters in the game




Lumisa Kosugi

(21 years old; fourth-generation Japanese; the game's protagonist)



Some say she is Lemeza's wife's daughter from a previous marriage, while others believe she's Professor Shawn's illegitimate child. Either way, she is a Kosugi; that much is clear. She travels to La-Mulana to make her archaeological debut after accepting Xelpud's request to search the ruins.

Lemeza Kosugi

(36 years old; the previous game's protagonist)



Tales of his exploits in the ruins of La-Mulana may be known worldwide, but he was also responsible for the ruins' destruction, and has gone into hiding as a result. His love of exploration has not faded, however, and he still finds time to go spelunking in secret.

Shawn Kosugi

(67 years old)



After revealing the "Treasure of All Life" he brought back from the ruins of La-Mulana, he returned to a hermetic life once more. Although he technically retired after finishing his research on the "Cradle of All Civilization", he finds himself slowly drawn back into the world of archaeology.

Elder Xelpud

(Age unknown)



Upon the collapse of the La-Mulana ruins, his life as a 7th Child came to an end. He's been spending his time running the "La-Mulana Ruins Tourist Spot" in hopes of finding purpose in life once again. As a result, he's become quite wealthy, and now lives a life of luxury full of beautiful women and fast cars.

Mulbruk

(3024 years old; looks/hopes to look about 24)



Since her release from the ruins, Mulbruk has been happily living aboveground, pretending to be a "normal" young woman. Using her amazing knowledge of history, she has become a treasure hunter. She's also become quite fashionable.
7. 도전과제

히든 도전과제 완료방법 (english)
스팀 통계

All I Need is One Arm
Obliterated all Guardians without using secondary weapons.

All I Need is One Finger!
Obliterated all Guardians without using secondary weapons in HARD MODE.

Dragon of Embraces
Defeated Fafnir.

Obstacle
Defeated Vritra.

Shouldered World
Defeated Kujata.

Insane Sun
Defeated Aten-Ra.

Twined Malice
Defeated Jormungand.

Sky People
Defeated Anu.
Flaming Fist
Defeated Surtr.

Reproduction of Power
Defeated Echidna.

Last Guardian
Defeated Hel.

Treasure Hunter
Filled every item slot.

Master Key
Unlocked all fairy locks.

Serial Application
Obtained all applications.

Encyclopedia Completionist
Unlocked every enclyclopedia entry.

Watch Where You're Whipping
Received retribution.

The Dark Lord's Nest
Were Led to Nibiru.

The Philosopher's Departure
Alsedana's funeral ended.

Like Father, Like Daughter
Don't let that stop you from saving that pain-in-the-neck.

Visiting the Underworld
Visit someone who knows of the Underworld.

The World Beyond Death
Finally reached the Underworld.
Corridor of Blood
Entered the Corridor of Blood.

Moment of Release
Cleared the game.

By Sheer Grit
Cleared Hard Mode.

Once You Read It, You Can Never Go Back
I warned you.

Dear Foolish Adventurer
Started HARD MODE.

She's Back
Met Mulbruk.

Lights of the Fairies
Got the cooperation of a fairy.

Brahma's Trial
Unsealed the Ruins Project Map

The End
Saw Eg-Lana through to the End.

How About a Makeover?
Found a Garb Chest that needs a special key to open.

Long Live the Queen
The Queen was saved from the ruins.

Memories of Ruins
Obtained the Holy Grail.

Grab a Wall
Obtained the Grapple Claw.

Seek a Higher Place
Obtained the Feather.

Stop Time
Obtained the Lamp of Time.

Knowledge is Power
Obtained the Ruins Encyclopedia app.

Take a Walk on the Dark Side
Obtained the Future Development Company app.

Running Like The Wind
Obtained the Gale Fibula.

Ancient Alien Hypothesis
Obtained the Clay Doll Outfit.
Pro Regular
Visited Nebur's store 20 times.

Everyone Has Their Reasons
Visited Nebur's store 40 times.

Harassment
Pepper is for food, not people.

What's the Wig Idea?
Helped the Elder overcome his weakness.

Say Cheese!
Looking foward to the holiday snaps.

9th Child
Defeated the 9th Child.