언어
영어*, 독일어, 폴란드어
*음성이 지원되는 언어
SteamDB
4. DLC
5. 트레이딩 카드

6. 게임 소개
6.1 동영상
6.2 소개
Revolutionary Edition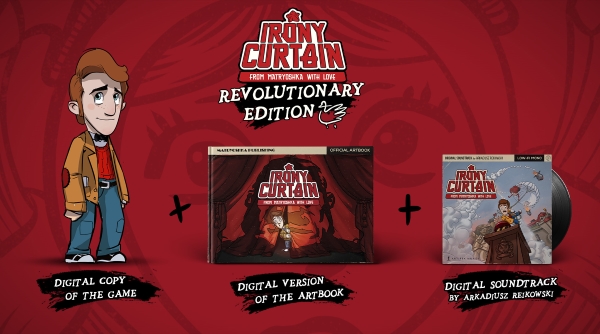 In addition to the base game, Irony Curtain: From Matryoshka with Love - Revolutionary Edition includes the game's original soundtrack composed by Arkadiusz Reikowski and a digital artbook presenting the creative process behing the game.
게임 정보

Take a look behind Irony Curtain in this satirical point-and-click inspired by the best works of LucasArts and Daedalic Entertainment! Experience the totalitarian Matryoshka through the eyes of Evan – a low-ranking, goofy journalist involuntarily pulled right into the middle of an espionage stand-off between two powers. Jump into the wacky spy adventure, uncover secrets of the bizarre communist country (and the powerful capitalist empire!), witness a story full of unpredictable twists and turns, and discover the true agenda of the mysterious Supreme Leader!
What business might the loving father of the Matryoshkan nation have with a lowly, capitalistic pen-pusher?
Why suddenly lift the Irony Curtain and welcome a stranger into Matryoshka?
And why is there an alligator in the middle of the bathroom?!

An original setting: fictional Cold War era – alternate reality unbound by historical accuracy, and the communistic Matryoshka full of people who work all the possible angles to navigate this illogical, odd country.

Inspired by classic adventure games – but better. No dream-logic, no pixel hunting. No-nonsense. Pure point and click fun.

The Spy Intrigue – sleeper spies, stolen secrets and world-domination plots wrapped up in layers of humor.

Quirky characters – Meet the mysterious Leader ruling Matryoshka with an irony fist, the clueless and guilible Evan, the brave and witty Agent Anna and the notorious Minister of Propaganda...


Do it your way – some of the puzzles are non-linear and can be solved in two or more different ways.

21 hand-painted locations – that look surprisingly better than their original inspirations. 

1,951 cleverly sneaked-in easter eggs – some of them punishable by political imprisonment.

Music score as grand as Matryoshka itself - music by the state composer Arkadiusz Reikowski (Layers of Fear, My Brother Rabbit) with Main Theme by Peter McConnell (Monkey Island, Grim Fandango)

Full voice-over – in English, and subtitles in Polish and German.

A 5-year plan – that no one ever hoped to achieve, and neither should you. 



7. 도전과제

히든 도전과제 완료방법 (english)
스팀 통계

The Weirdest Journey
Step one - Leave the house

When Things go Awry
Step two - Stay clean

Betrayal at Condor
Step three - Get cracking

Gory to Matryoshka
Step four - Save Matryoshka

The Adventure Begins
Piece together how it all began

Blast from the Past
Bring back your childhood memories

Deja Food
Experience public humiliation

Old Friends
Find the hidden stash

Finishing Touch
Surely you can use these things together

Welcome to Matryoshka
Witness the absurdity of Matryoshka for the first time

Strong-arm Service
Acquire an unusual business card

Liberator
Sal Limones would be proud!

Ivan the Destroyer
Slightly vandalize the room

Constant Surveillance
Close observation goes outrageously wrong

Scream and Run
Oh hai doggy

Am I Evil?
We all go a little mad sometimes

The Final Frontier
Try to find another race in outer space

Shame on You
Getting the various hard-working classes drunk will get you nowhere

Charmer
Show them how to treat the ladies

Apoocalypse
All work and no play makes Evan a very dull journalist

Bright Idea
Save your telekinetic powers for later

Sweet Surrender
Offer the general an excellent treat

Pro Tiger Tamer
A three-headed monkey would also be useful

Evan Mosley
Almost like a detective's disguise

Fearless Coward
Technically you're not supposed to do that

IDKFA
Disassemble the dreaded item

Origins
Find a way to bring down the wall

Not So Secret Cow Level
Find yourself in a heap of trouble

Meticulous Design
Create the perfect zooming device

Hero of the Day
Give the people a sure sign that the revolution has started

The Black Lodge
The right man in the wrong place

Obsolete Technology
Snap a photo with an antique camera

Son of a Gun
Prove that you're very thorough with your preparations