1. 한국어화
유저 한국어화
2. 가격 (KRW)
4. DLC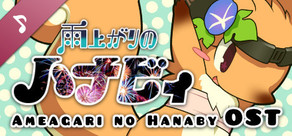 6. 게임 소개
6.1 동영상
6.2 소개
Ameagari no Hanaby
is a single-player 2D-action game with fireworks as a theme. The rating is 'mature' because there are somewhat problematic obstacles in a specific world, but don't worry because there is no sexual expression with characters.
FEATURES
Unique worlds: as if she travels, Hanaby goes round a wide variety of worlds.

Fantastic musics: Mr. AAAA's new composed dedicated BGM is prepared in each world.

Mild story: you don't have to brace for melancholy and can enjoy the game purely.

Operability: it's a simple jump-action game. It will take less than a minute to remember all basic operations.

Fireworks: not only to hit enemies but to be used by gliding... New exhilaration feeling is here.

Input: it supports both keyboard and gamepad. Key mapping function for gamepad is embedded in the game.

Load/Save: There are three independent save files. The progress of the game and possessed items are automatically saved.

Game mode: there are the story mode and the speedrun mode. The speedrun mode will be released after you finished story mode.
STORY
Hanaby
is a squirrel-girl living in
Retro Rainforest
. Squirrels in this forest must become 'adult' to leave the forest.
Hanaby
will challenge the ordeal of forest to become an 'adult'.
7. 도전과제

히든 도전과제 완료방법 (english)
스팀 통계

Clear Sky
Finished story mode once.

Finished Round 2
Finished story mode round 2.

Finished Round 3
Finished story mode round 3.

Finished Round 5
Finished story mode round 5.
Finished Round 10
Finished story mode round 10.

Fireworks Master
Got all fireworks.

Heartful
Heart capacity reached 15.

Starful
Star capacity reached 300.